Designing the two most essential spaces in a home, the bathroom and kitchen, requires careful planning and creativity. Here at Traci Connell Interiors, our years of experience have taught us that these rooms play a crucial role in our daily lives, from preparing meals to unwinding after a long day. Whether you're renovating or starting from scratch, we're here to guide you through the fundamentals of bath and kitchen design, helping you create spaces that are both functional and aesthetically pleasing.
1. Understanding The Functionality For Kitchen And Bath Interior Design
Before diving into the creative aspect, it's vital to understand the functionality of these spaces. Both the bathroom and kitchen serve specific purposes, and a successful design will prioritize practicality.
For Bathroom Remodeling: consider the number of users, storage needs, and the activities that will take place.
For Kitchen Remodeling: focus on the layout, efficient workflow, and adequate storage for utensils, appliances, and pantry items.
Assess Your Specific Needs: such as whether you require ample counter space for food preparation, extra storage for kitchen appliances or bathroom products, or a more spacious shower or tub for relaxation.
Reflect On Your Design Style Preferences: ranging from modern and farmhouse to traditional or eclectic.
Envision The Flow and Functionality Of The Spaces: Would an open-concept design better suit your needs, allowing for seamless movement between rooms?
Decide About Extra Design Pieces: ponder whether incorporating a kitchen island or breakfast bar would enhance the overall functionality of the space.
The Practical Requirements: By thoroughly understanding your lifestyle and design preferences, you can create kitchen and bathroom spaces that are not only visually appealing but also tailored to meet your practical requirements.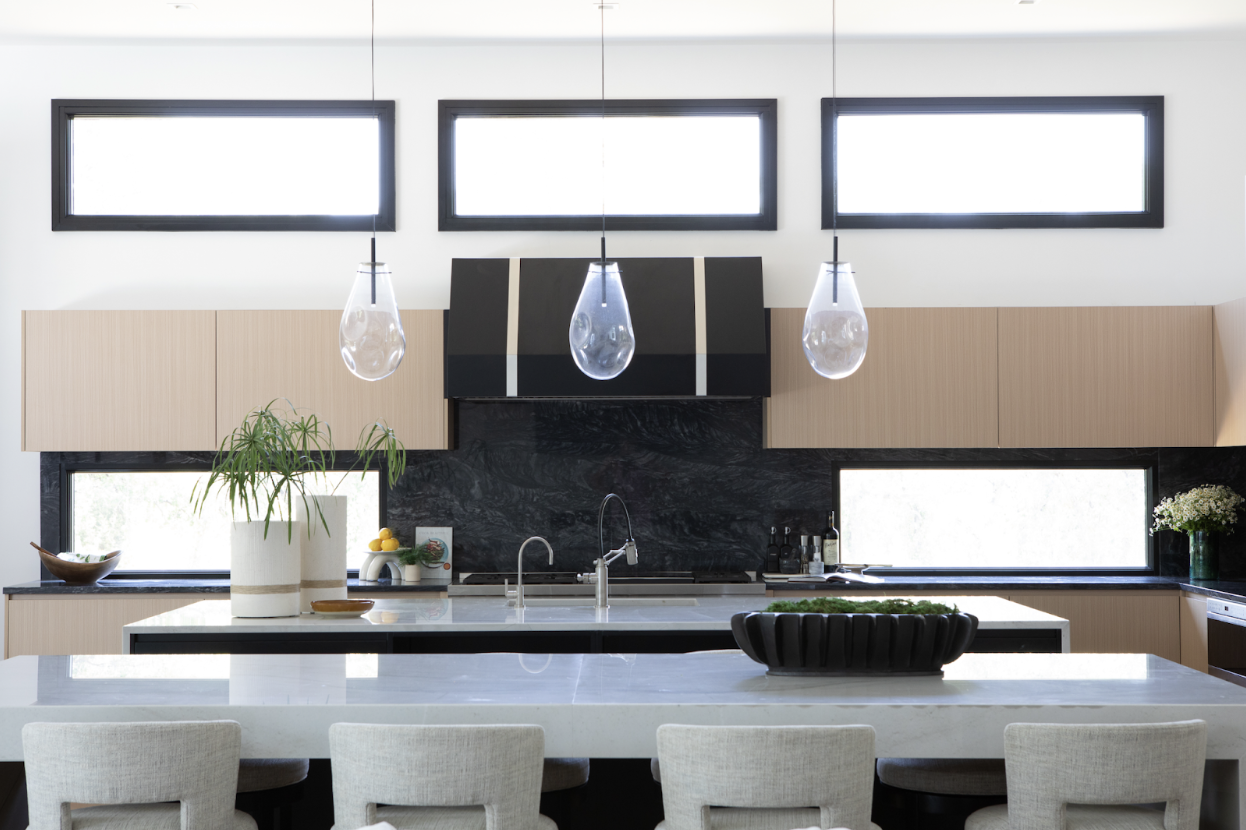 2. Define Your Kitchen and Bath Style
Once you understand the functionality, it's time to define your design style. Are you drawn to a modern and sleek look, or do you prefer a cozy and rustic atmosphere? Research different design styles and choose one that resonates with your personal taste. Remember to keep the style consistent throughout the entire house for a cohesive feel. Explore various home decor and remodeling magazines like Architectural Digest, House Beautiful, and Elle Decor. These publications showcase captivating kitchen and bathroom designs, offering abundant inspiration for color schemes, layouts, and design elements.
Utilize online platforms such as Pinterest, Instagram, and Houzz to discover a plethora of photos and design ideas relevant to kitchen and bath remodels. By saving images that capture your attention, you can curate a personalized visual inspiration board that serves as a creative reference throughout your project.
3. Create A Realistic Timeline For Your Kitchen And Bath Remodel Project
When embarking on a bath and kitchen remodel project, it's important to establish a well-thought-out timeline for the entire process. A carefully planned timeline can help you stay organized, ensure a smooth workflow, and ultimately lead to the successful completion of your project within your desired timeframe.
Assessing the Scope of Work: The first step in establishing a timeline is to assess the scope of work required for your bath and kitchen remodel. Take note of all the changes you wish to make, whether it's a full renovation or a more modest update. Consider factors such as demolition, plumbing and electrical work, material sourcing, and installation.
Setting Realistic Milestones: Break down the project into manageable milestones. Identify key tasks and set realistic timeframes for each one. By having specific goals for different phases of the remodel, you can monitor progress and make adjustments if necessary.
Allowing for Contingency: Despite careful planning, unexpected delays or challenges may arise during the remodel. To account for these contingencies, build in some buffer time into your timeline. This will help prevent frustration and keep the project on track even in the face of unforeseen circumstances.
Ordering Materials and Products: Ordering materials and products is a significant part of the timeline. Be proactive in sourcing the necessary items, as delays in delivery can significantly impact the project's progress. Work closely with suppliers to ensure timely delivery of materials.
Regular Communication and Updates: Maintain regular communication with your team throughout the remodeling process. Regular updates on progress, challenges, and adjustments to the timeline will help keep everyone on the same page and minimize surprises.
Flexibility and Adaptability: While having a set timeline is essential, it's equally important to remain flexible and adaptable. Sometimes, minor adjustments may be needed to achieve the best results or accommodate unforeseen circumstances. Embrace the process and trust that your efforts in creating a realistic timeline will pay off in the end.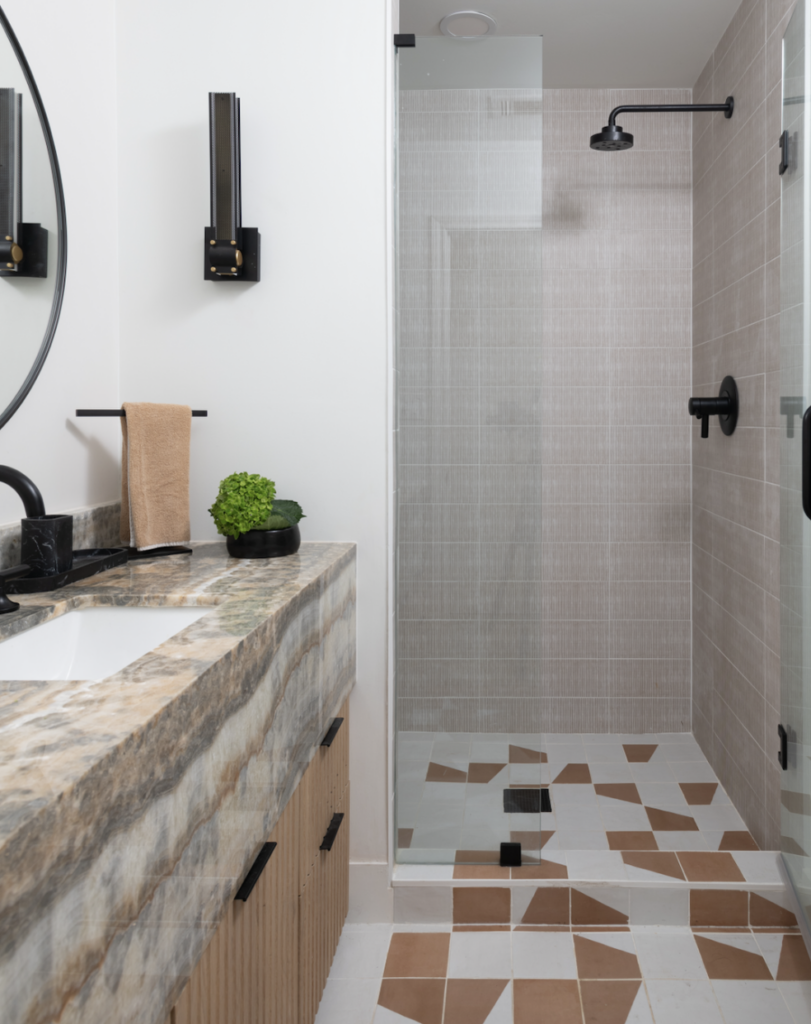 4. Color Palette and Lighting In Your Kitchen And Bathroom
Color and lighting play significant roles in both the bathroom and kitchen. Neutral and light colors can make a small space feel more open and airy, while bolder hues add character and personality. Be mindful of color combinations and aim for a balanced and harmonious look. In terms of lighting, ensure there's sufficient natural light and incorporate layered lighting with task lighting for work areas and ambient lighting for overall mood enhancement.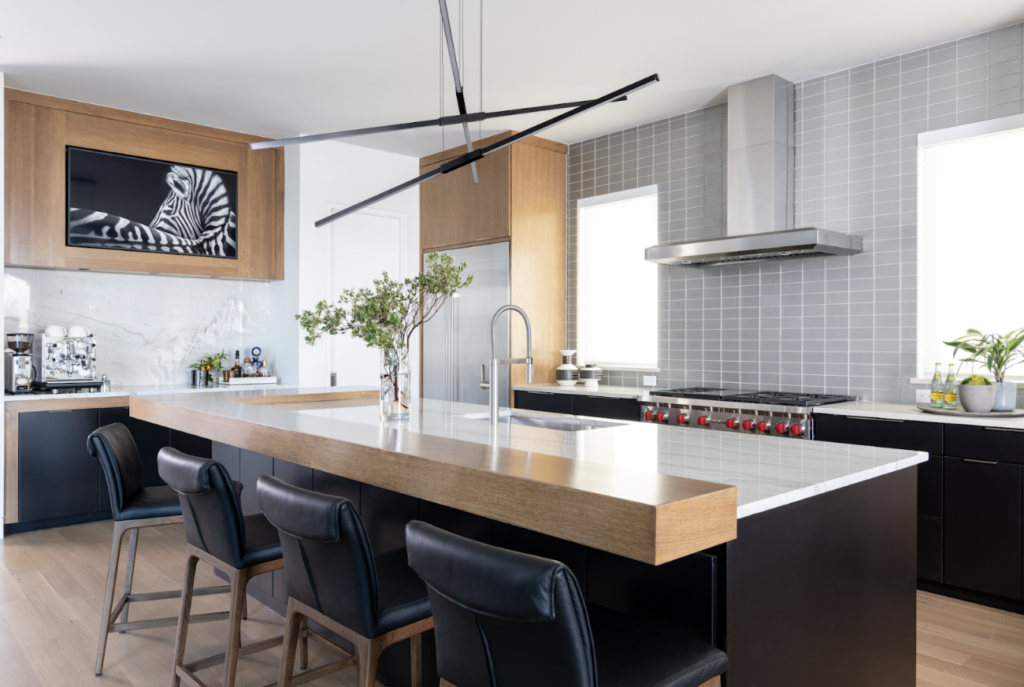 5. Materials and Finishes For Your Kitchen And Bath Remodel
Flooring and Backsplash: choices should be durable, easy to clean, and complementary to your chosen style.

For bathrooms, consider materials like porcelain or ceramic tiles that can withstand moisture and splashes. 
For kitchens, options like hardwood, tile, or natural stone work well. The backsplash is an excellent opportunity to add a touch of creativity and uniqueness to your design.

Fixtures and Hardware: Pay attention to the fixtures and hardware in both spaces, as they can significantly impact the overall design.

Choose faucets, handles, and knobs that align with your chosen style and ensure they are functional and easy to use. 
Coordinating finishes can tie the entire design together and create a polished look.

Incorporating Green and Sustainable Elements: This element, in both the bathroom and kitchen design, is becoming increasingly more popular. Opt for water-efficient fixtures and appliances, energy-saving lighting, and eco-friendly materials whenever possible. Not only will this benefit the environment, but it can also lead to long-term cost savings.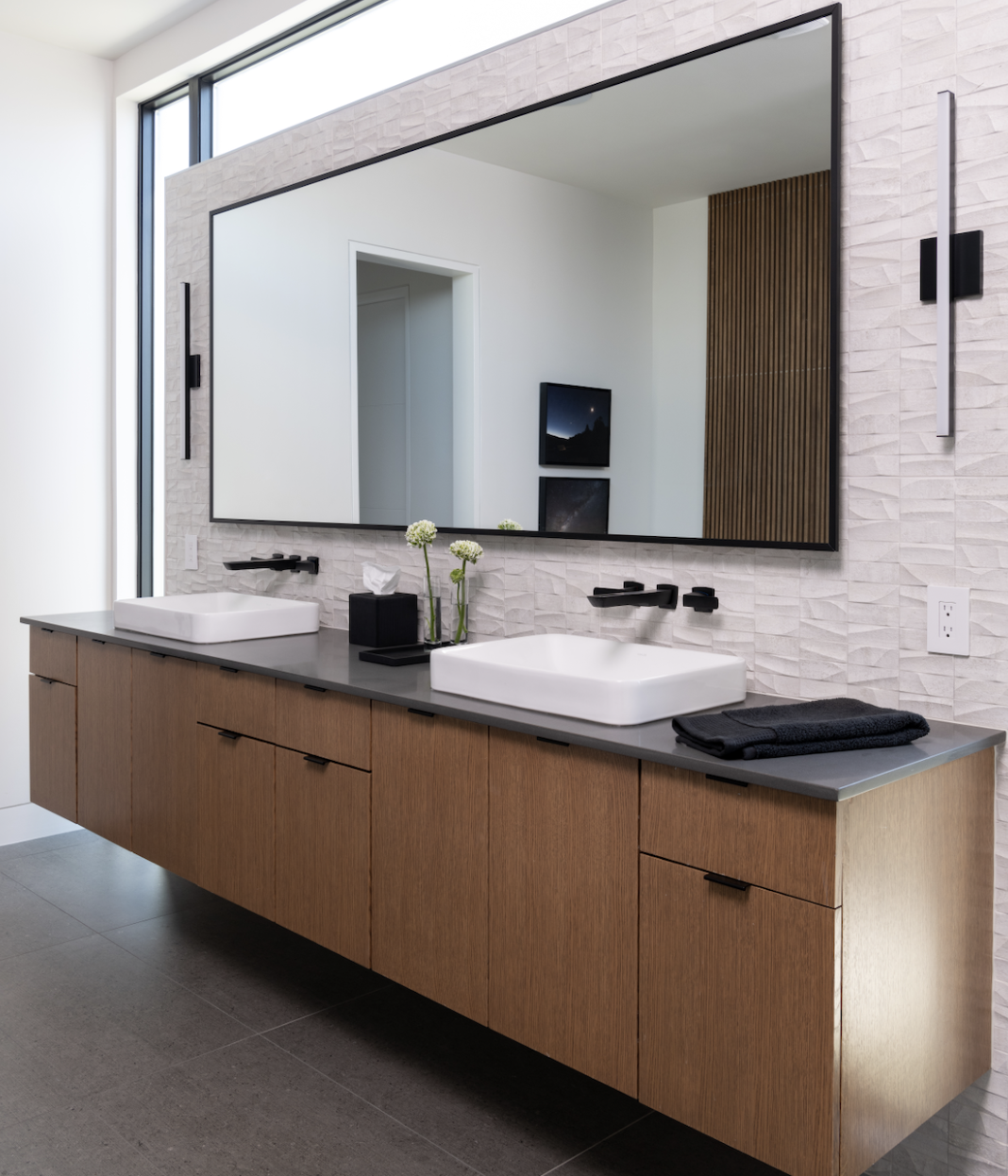 6. Research Kitchen and Bath Designers/ Contractors Who Best Fit Your Needs
Ask for recommendations from friends, family, or neighbors: People who have recently completed a bath and kitchen remodel LOVE to recommend the associated contractor/designer. They may be able to provide valuable insights into their experience working with a particular designer or contractor.
Search online for designers and contractors in your area: Look for reviews and ratings on websites such as Yelp, Google Reviews, and Houzz to see what other customers have to say about their work.
Check professional associations and certifications: For example, the National Kitchen and Bath Association (NKBA) is a trade organization that certifies professionals in kitchen and bath design. This can give you an indication of their level of expertise and professionalism.
Visit showrooms: You need to see the work of different designers and contractors and get a sense of their style and design approach.
Schedule consultations: Getting an idea of the approach with a few different designers or contractors to discuss your project is a great start. Plus, it also helps you get a sense of their approach, communication style, and availability. This can help you determine if they are a good fit for your needs.
Ask for references and portfolios: Seeing examples of their past work, including before-and-after photos of previous bath and kitchen remodels is an absolute must. As such, their portfolio will tell you everything you need to know. For example:
BEFORE: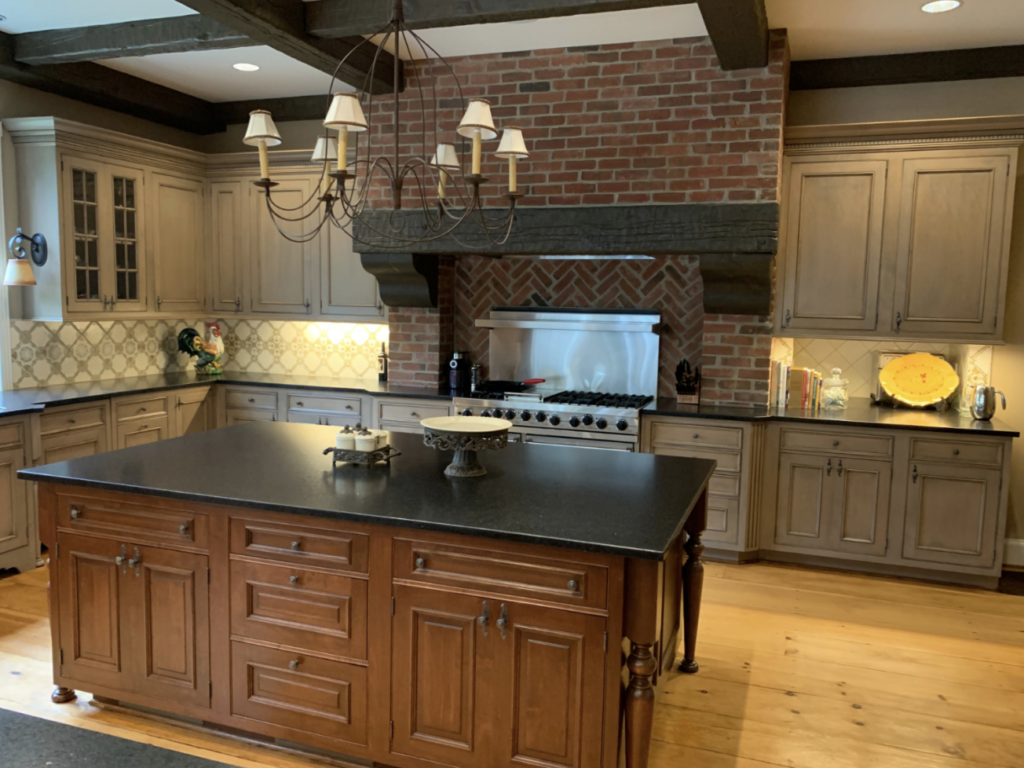 AFTER: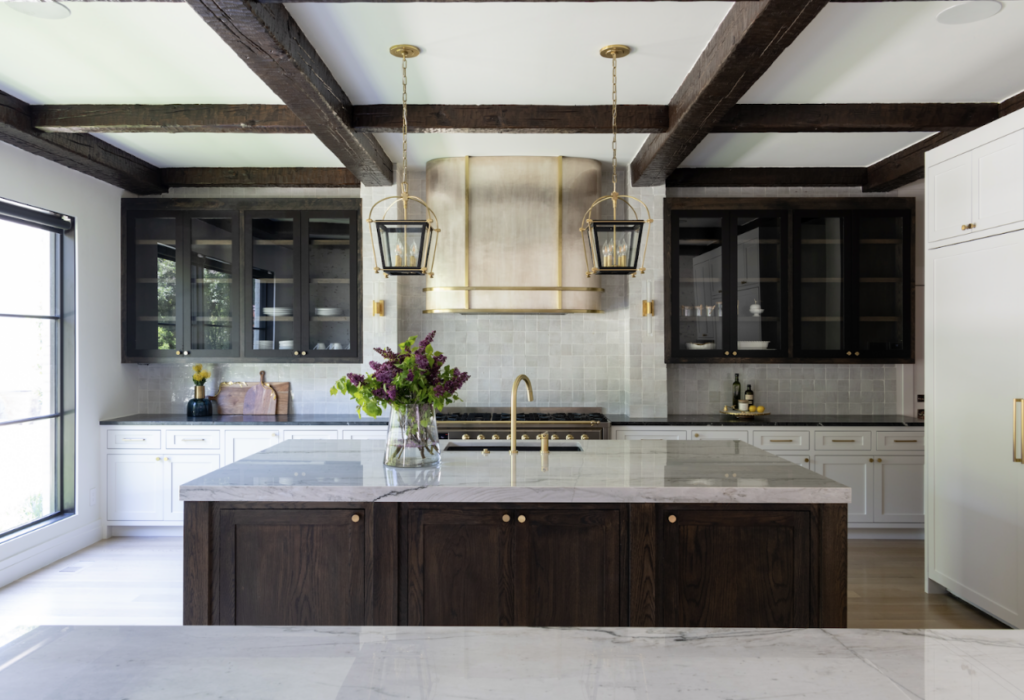 After hiring a designer for your kitchen and bath remodel, you can expect a well-structured process. The designer will start with an initial consultation to understand your vision and needs. They will then develop design concepts, incorporating your preferences, and make revisions until the plan is finalized. With the materials selected and budget established, the construction phase begins under the designer's supervision. Throughout the project, the designer ensures smooth progress, addresses any issues, and adds the final touches to achieve a polished look. After completion, there will be a final walkthrough and handover. Communication and collaboration are key throughout the process, ensuring that your vision is brought to life, resulting in functional and aesthetically pleasing spaces.
Designing your bathroom and kitchen is an exciting journey that demands a mix of creativity, functionality, and attention to detail. By understanding the specific needs of these spaces, defining your style, optimizing the layout, and paying attention to essential design elements, you can create stunning, practical, and sustainable rooms that truly reflect your taste and lifestyle.
Ready to transform your kitchen and bathroom into stunning spaces that reflect your style and cater to your needs? Hire our expert design team now and let us bring your vision to life! Contact Traci Connell Interiors for a personalized consultation and take the first step towards your dream build or renovation today.