A home office…what do YOU use a space like this for? Work, emails, crafts, storage….the list goes on and on. But the one thing everyone wants as they spend time in a space such as this is to feel happy, light and clean.
We think we were able to accomplish all of these things in our most recent completed project…this contemporary home office with a slate blue and orange color palette. The custom built-in cabinet was painted in a coordinating grey-blue and given a light umber glaze to accentuate the cabinetry lines.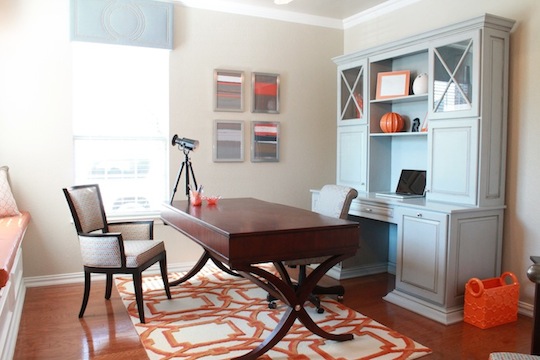 The writing desk from
Hekman
is a perfect base to this light, colorful room. It is paired with an executive swivel chair from
Sam Moore
that incorporated our slate blue color. The guest chair, from
Vanguard
, is upholstered in a multi colored fabric that brings our color palette together.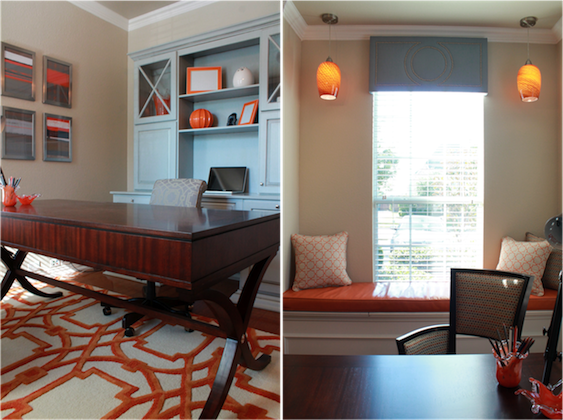 The custom cornice boards with unique nailhead design was made by Kemtex here in Dallas, along with the window seat cushion and pillows. Adorable sitting area.
The client's young daughter even has her own special place in this home office;) We used
Global View's
orange "Petal Power" wall decor to make her little space her own. She even has her own desk and custom ottoman that pulls in all the bright
orange
!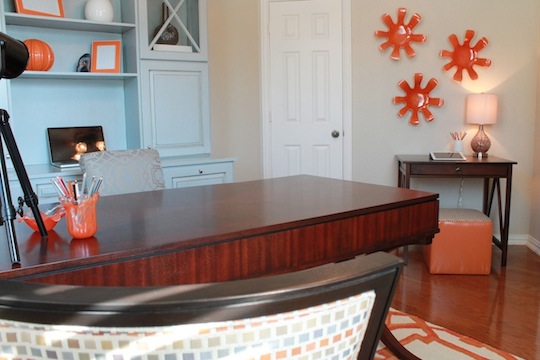 The orange and cream rug is also a beautiful
Global Views
find that really gives the room that perfect punch of bold pattern. See the clock on the side wall? It was made by a made named George Nelson who was an American industrial designer, and one of the founders of American Modernism. While Director of Design for the
Herman Miller
furniture company both Nelson, and his design studio, George Nelson Associates, Inc., designed much of the 20th century's most iconic modernist furniture.
Now what you've all been waiting for…a before and after image to "wow" you!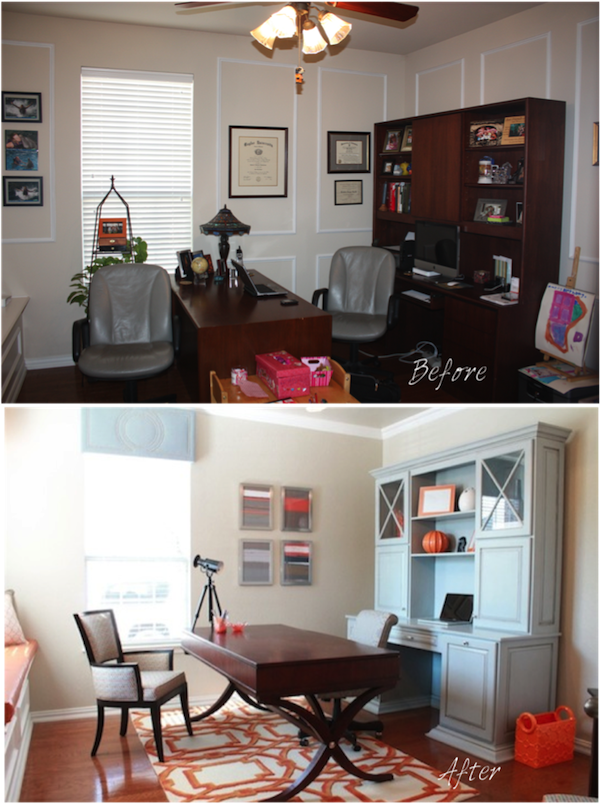 What do you think?? Check out our
Houzz Project
for even more pics of this installation!