It is time for a client project update!
Vintage Chick has is going on! I would consider her look a bit country french
with a splash of vintage glam.
Here's why…
She is a DIY (do it yourselfer) and has a great eye for style and color, but needed help creating a fabric combination in order to reupholster some existing pieces.
When I first entered the picture: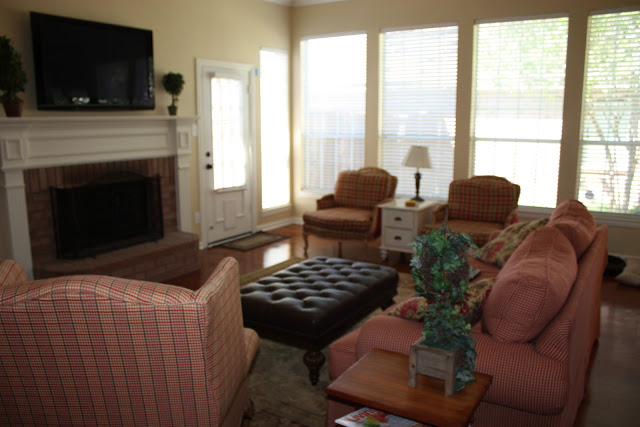 After I entered: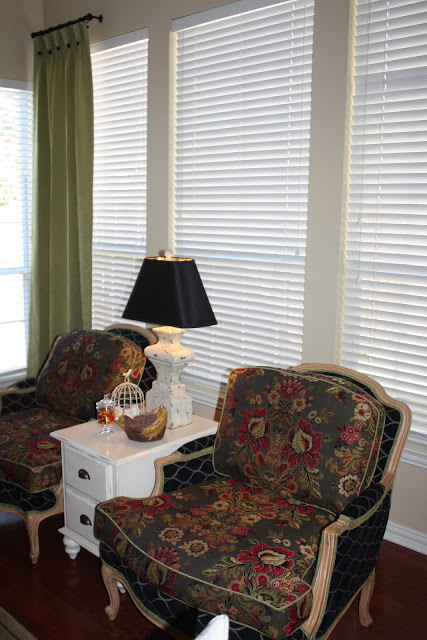 I don't typically recommend reupholstering furniture unless they have good bones!
That is if the pieces are good quality and are still in style….
Vintage Chic still loved her bergere chairs as well as her wing chair
on the opposite side of the room.
Next step… modernizing her current furniture… and boy did we ever!
(I think I turned the corner!)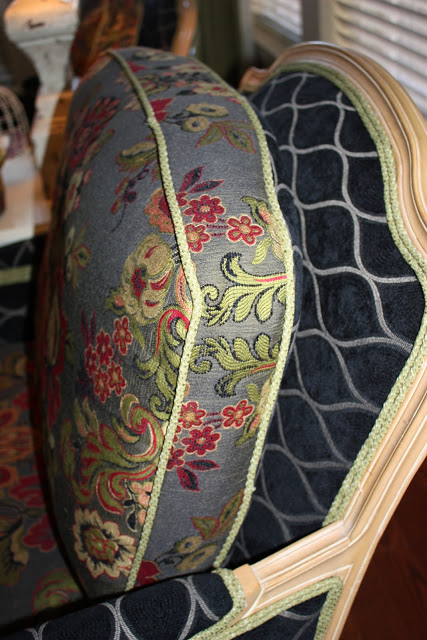 Vintage Chick could only get a small amount of the floral that she fell in love with,
but it is definitely the star of the show and
backed with the modern geo fabric… love it!!!!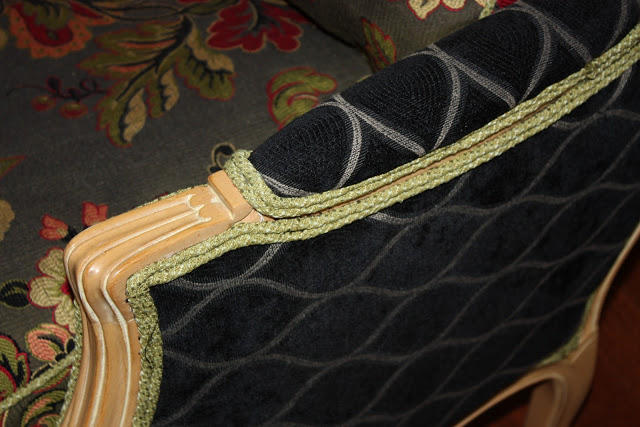 The green piping customizes these beauties even more (same fabric as window treatments)…
tying the look together… that's the goal:)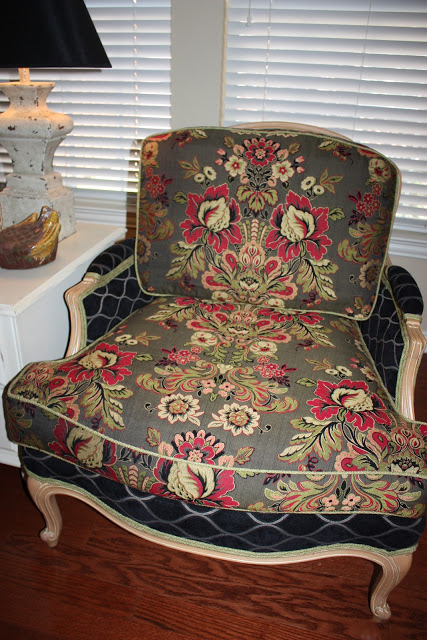 A step further would be to even give the wood a distressed, antiqued black finish…
ahhhhh- a brand new look for less.
I'm sure you have an old wing chair sitting around… this looks brand new!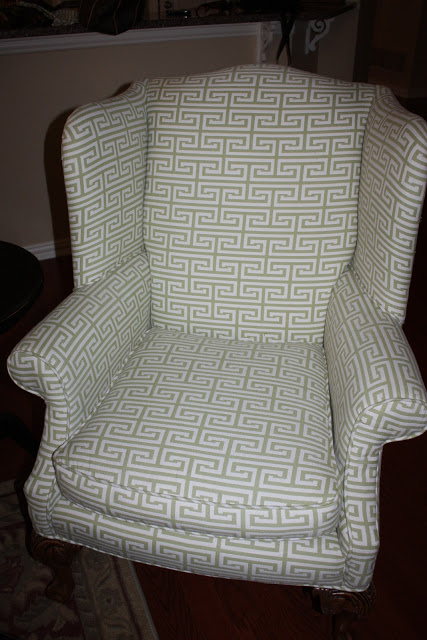 This Shabby Chic sofa was purchased new and VC had a great idea by
covering the cushion with a cream matlesse coverlet so her puppies
could jump up and take a nap! Who knew?!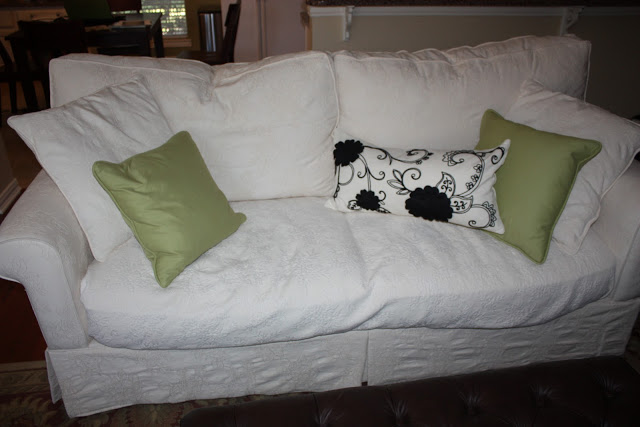 Fresh green kitchen wall color and sweet shades…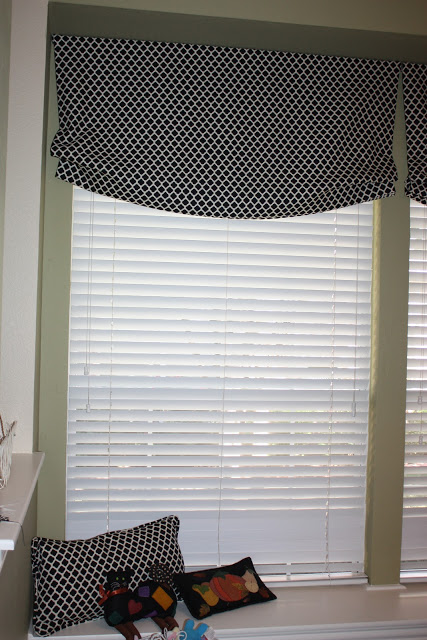 With that said, if you are adventurous, here are some resources to guide
your way through your first reupholstery project!
First, check out this chart to help determine how much fabric you will need.
Do a little fabric shopping to see what quality upholstery you like and how much it costs.
Weigh your options… new or repurposed????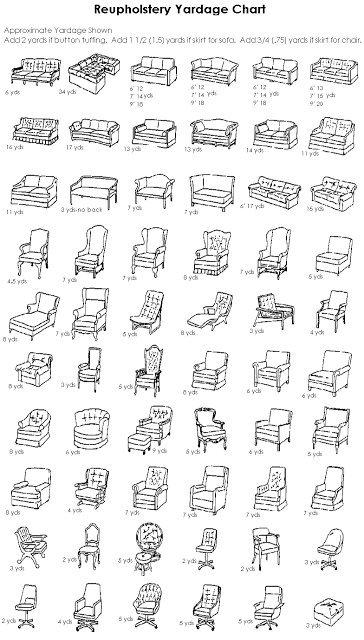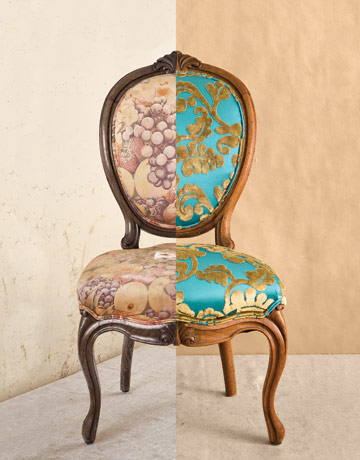 On the other hand, if you are a "caller" and not a "doer", then
I
can help!
Until next time,
Traci