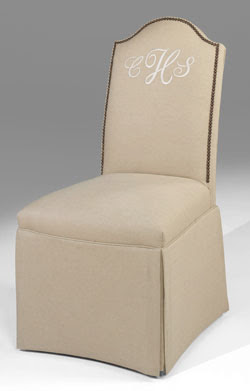 I've always love personalizing a space with initials…
and I just did it for a client project…
(it is a surprise, so I'll show you after the reveal!)
How about a surprise for you?!!
I was sourcing chairs for a client presentation and stumbled upon
a feature of the line,
Designmaster
, which is custom monogramming…
that we all can afford!
Do not stop with the bed sheets!
Look at these fabulous options…
I really dig the letters but Style #8 makes my hear flutter-
so classic…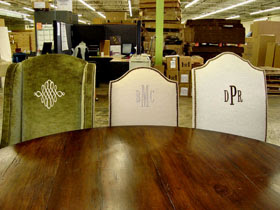 The contrast cording really sets these chairs apart as well.
Below is the selection of thread colors and I didn't even include them all-
Here are some tips from the folks at Designmaster…
located in Hickory, North Carolina:)
Custom embroidery designs applied to the inside back of our dining chairs
are positioned on the chair to be seen a few inches above the table top. If the chair
back is taller, the embroidery design will be further down from the top of the chair back.
If the chair is shorter, the design will be closer to the top of the chair back.
The monogram embroidery designs are slightly larger than the monogram
designs. However, the design placement is done in the same fashion.
Custom embroidery applied to the outside backs of our chairs, in most cases, will be placed on the upper portion of the chair back at a height level similar to the front. Sometimes, the embroidery design will look more appealing if it is centered on the back of the chair.
If you are going to spend $$$ on this over the top ceiling,
monogramming the theater chairs is a must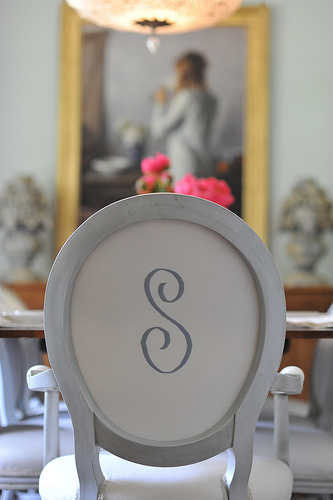 And I have to close out with this sweet little chair donned with the
perfect name in the perfect color!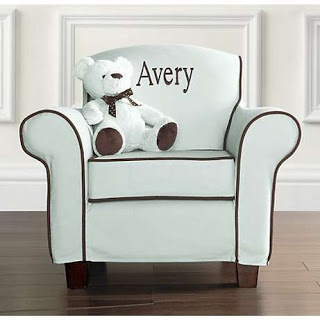 Kitchen or dining room? Call
me
when you are ready!
Until next time,