We hope you have been following along as we have COMPLETELY gutted and renovated our Dallas design studio. We took over the office suite next door and ripped down walls, rebuilt and gave the "office" space a residential feel with a sophisticated appeal.
Keep scrolling to learn more about each detail we incorporated into this creative space … where all the magic happens!
First Up- The Conference Room:
This is where all our presentations take place. Where clients begin to feel their homes take life and spread its wings. Where we reveal all the beauty that is to come! With Phillip Jeffries hand painted wall covering, Beth Gandy GIANT focal art, Arteriors lamps, and custom cabinetry from KB Studios, the back focal wall is ready for serving with a beautiful black marble from Allied Stone. Scout Design Studio's lucite gray chairs make for a comfy seat to take as we take in all the action.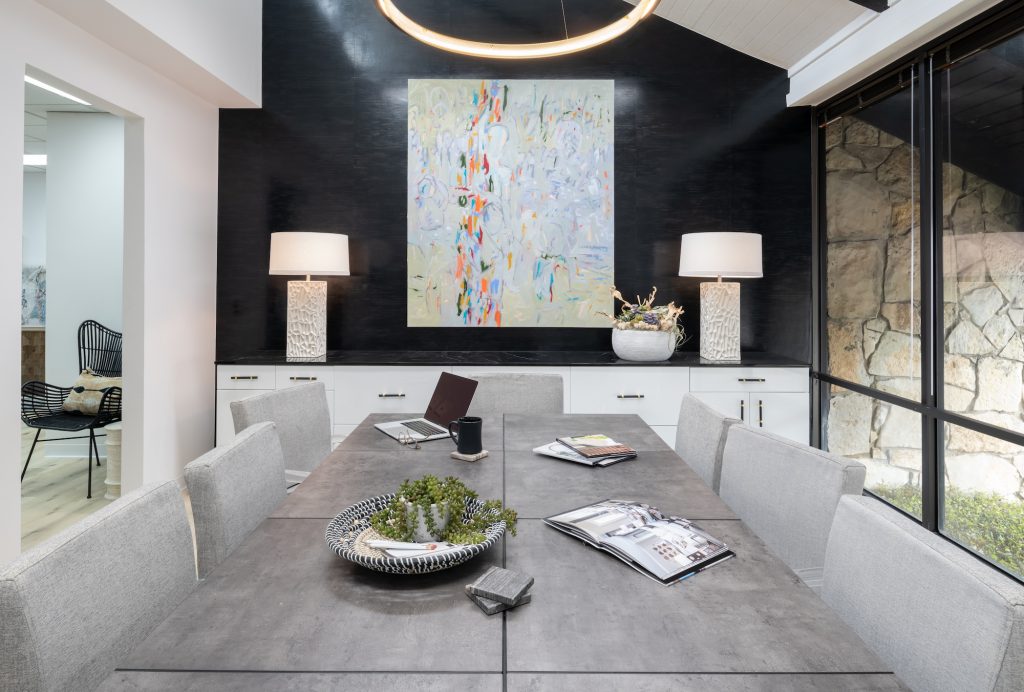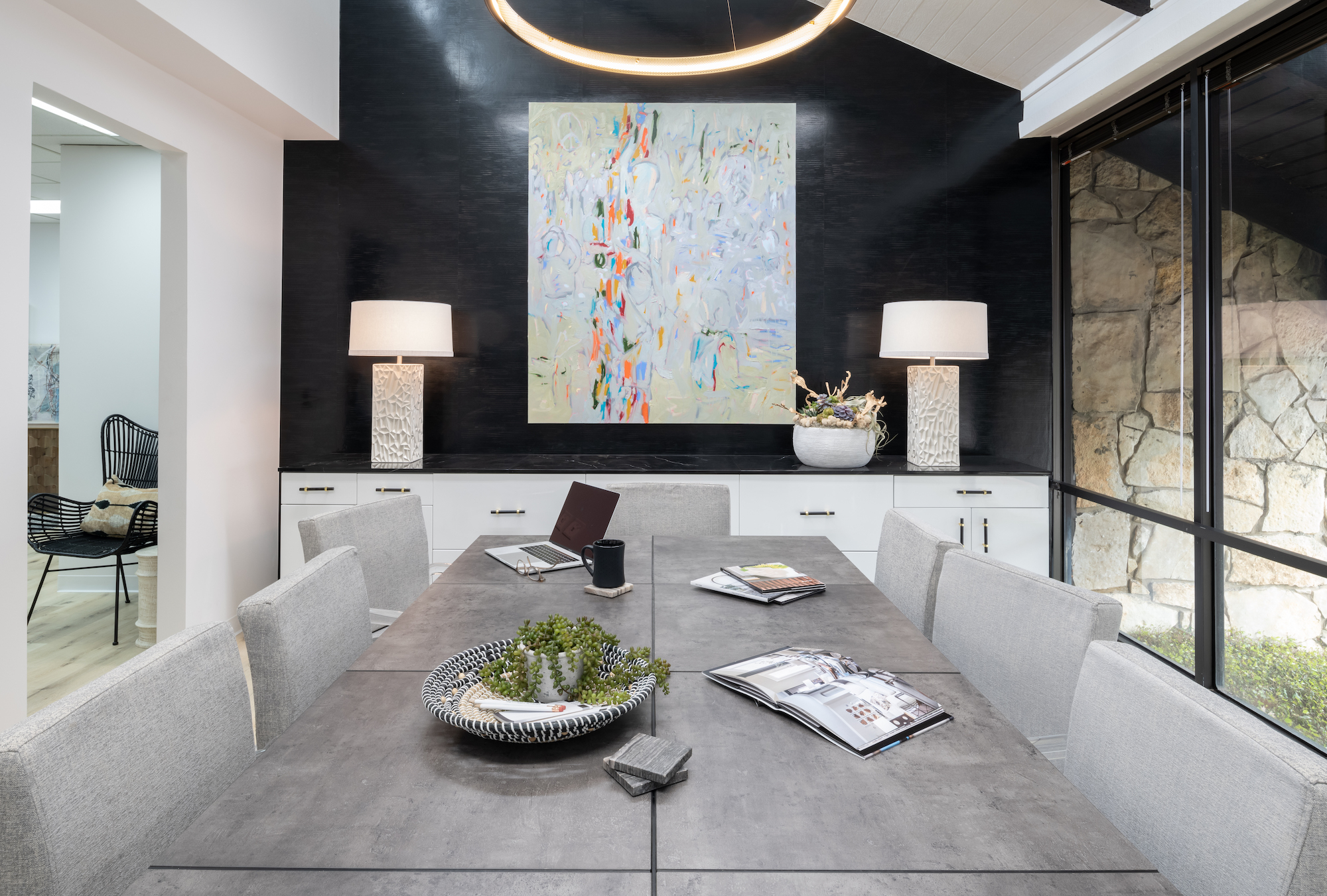 We wanted this space to be collaborative. A place we could dream, create and draw. The large magnetic marker board was the perfect touch to this space for lots of dreams to become reality. With the West Elm LED Ring light, and Scout Design Studio's Cobra Credenza, this completed the conference room!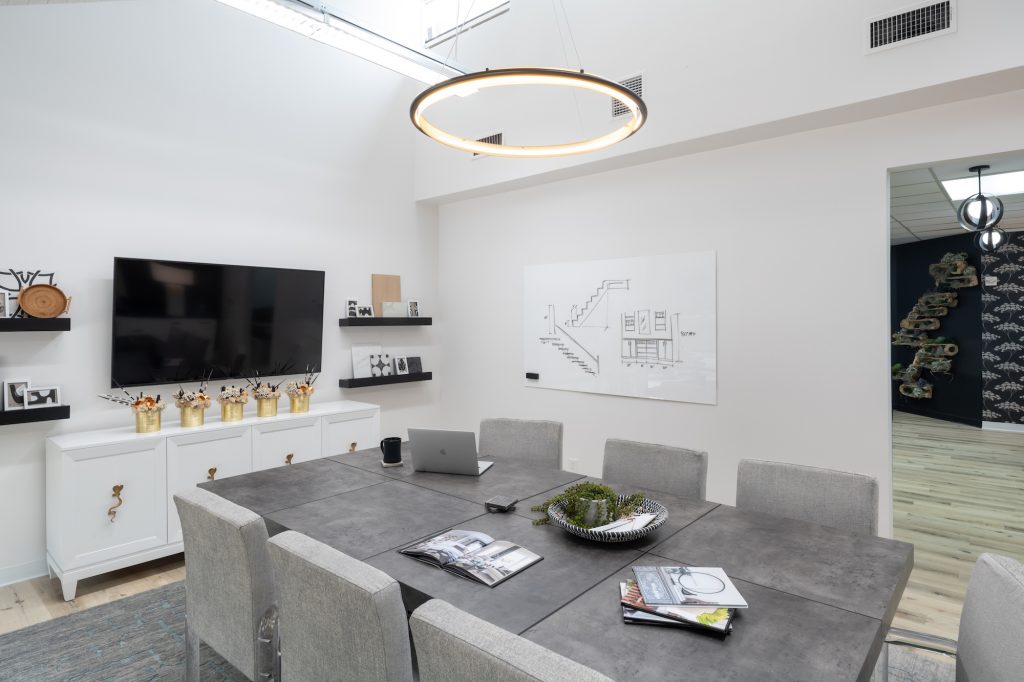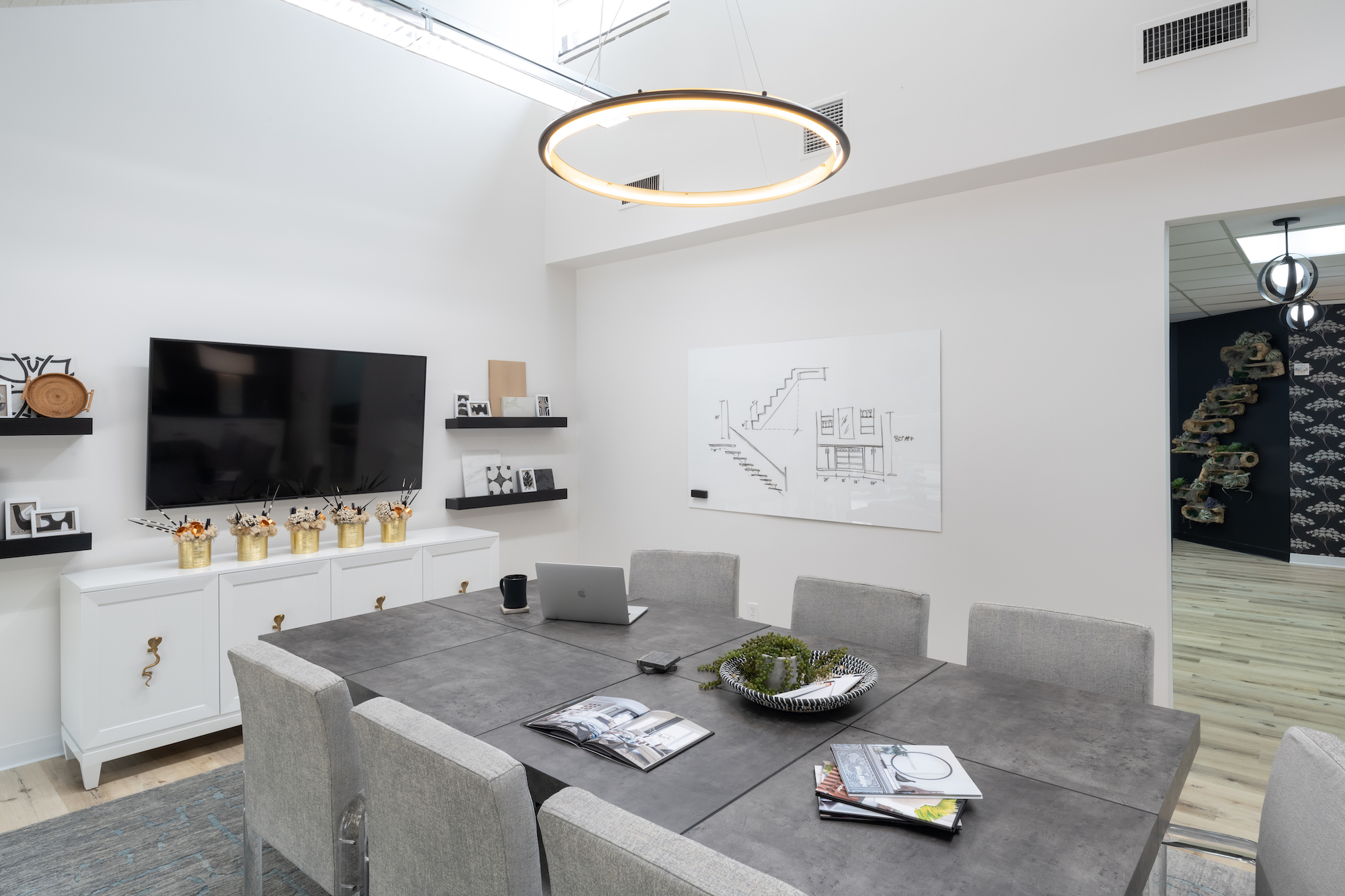 Next Up, The Build Center
Traci Connell Interiors takes on many types of projects, and a lot of them are complete custom home builds. We needed a space to house ALL of our finishes, samples and materials that it takes to complete these giant jobs. The adorable elongated black hexagon backsplash from Natural Selections popped right off the otherwise white room and makes the perfect background for all our tile lays.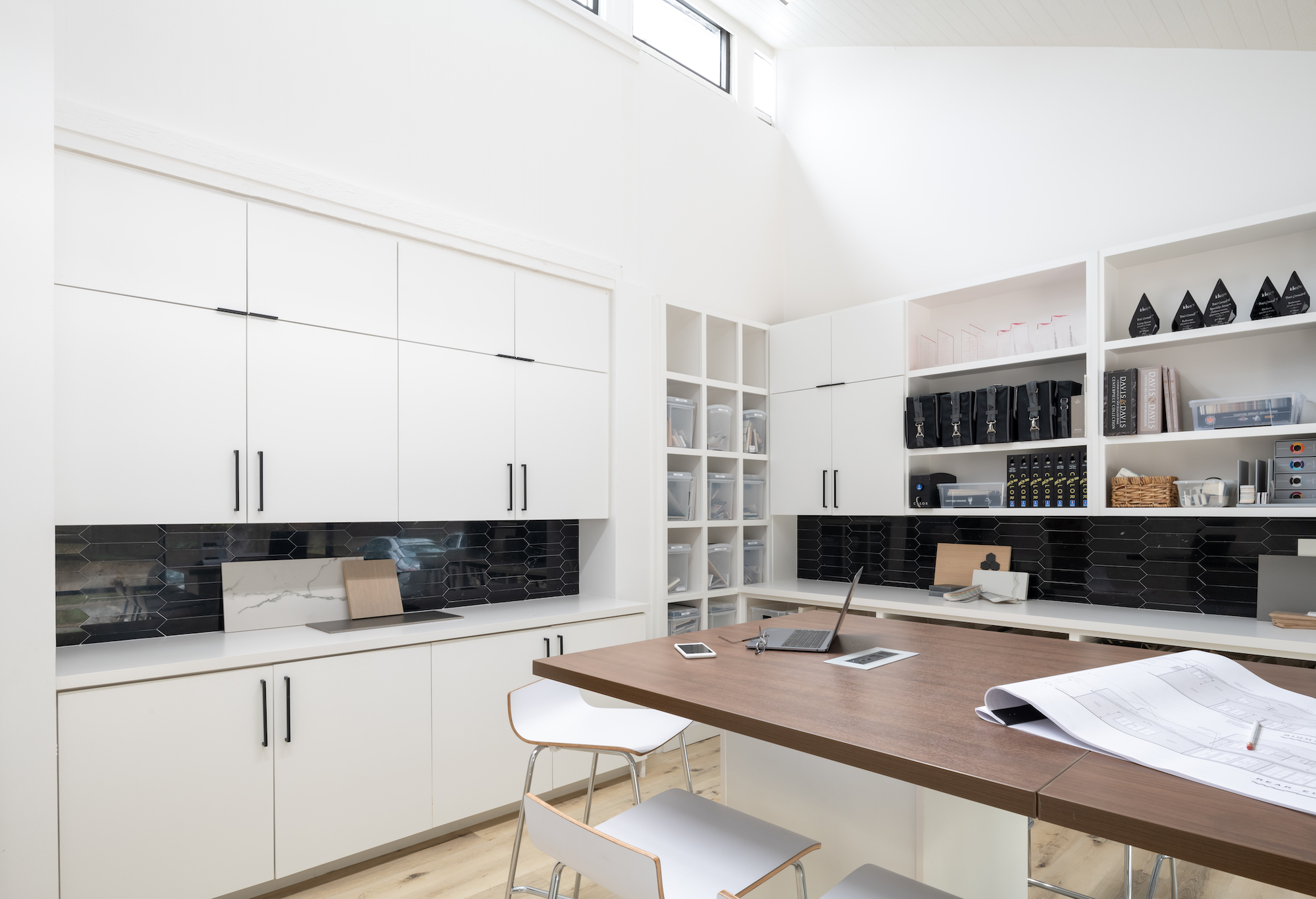 Another little design feature we knew we needed was a fun way to showcase AND store all our blueprints from these projects. Hey fun iron wall mounted rack! Top Knobs provided the hardware and Natural Selections provided and installed all the Vinyl Hardwood Floors throughout!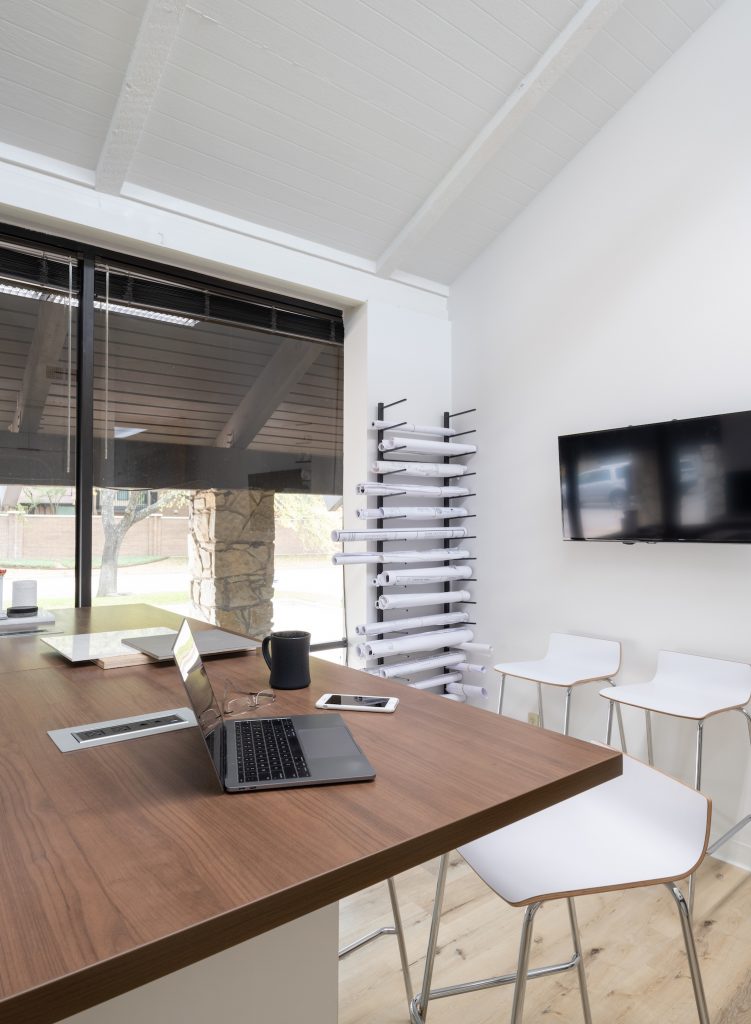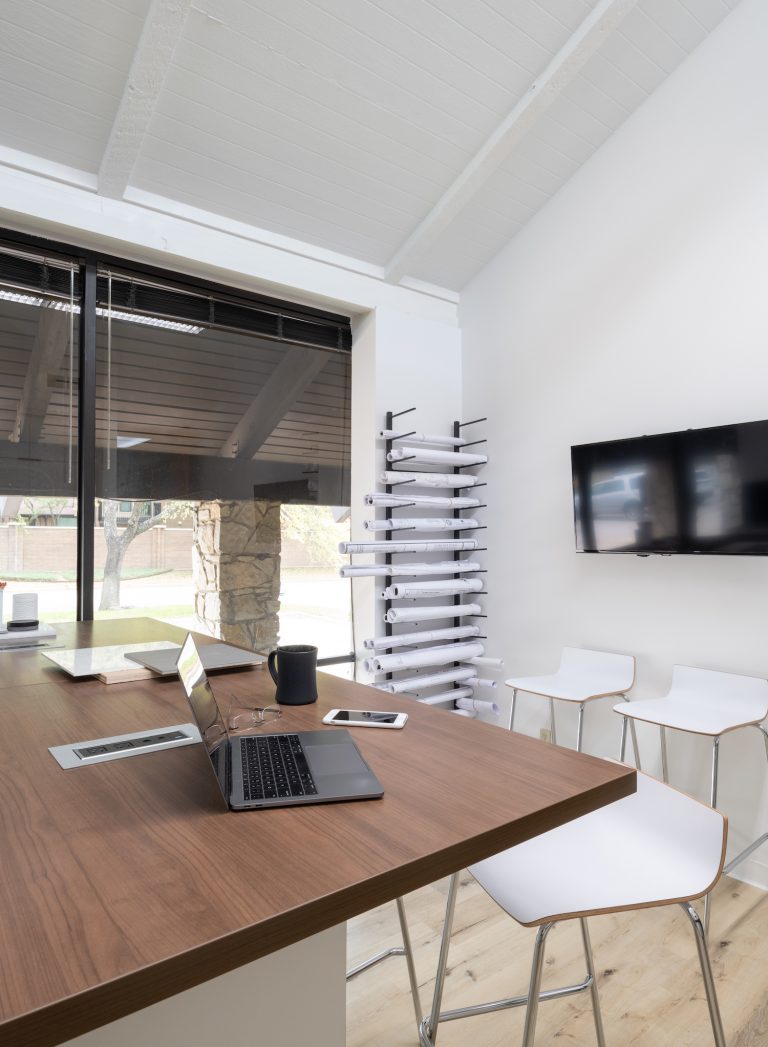 Designer's Office
Now THIS is really where all the magic takes place. Where all the hours are spent and drawings are made. Meetings are had and thoughts are bounced off… all the walls. Article's black weave pendant + this amazing marker board top table gives way for lots of collaboration! Truett Fine Carpets supplied this beautiful hand died cowhide in a killer green.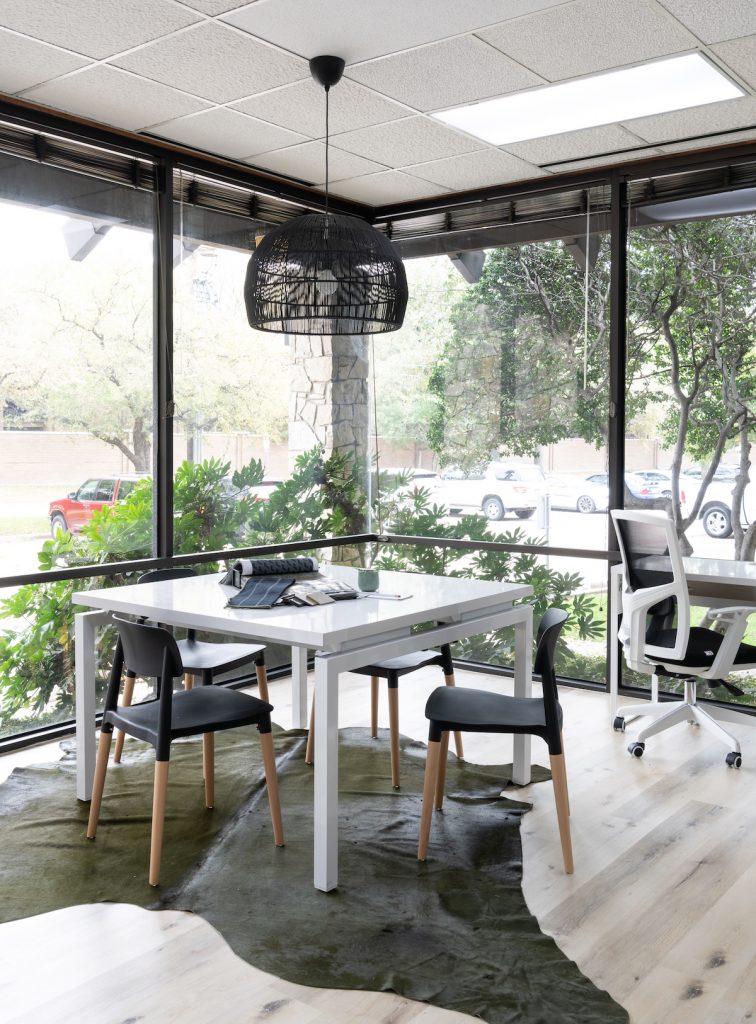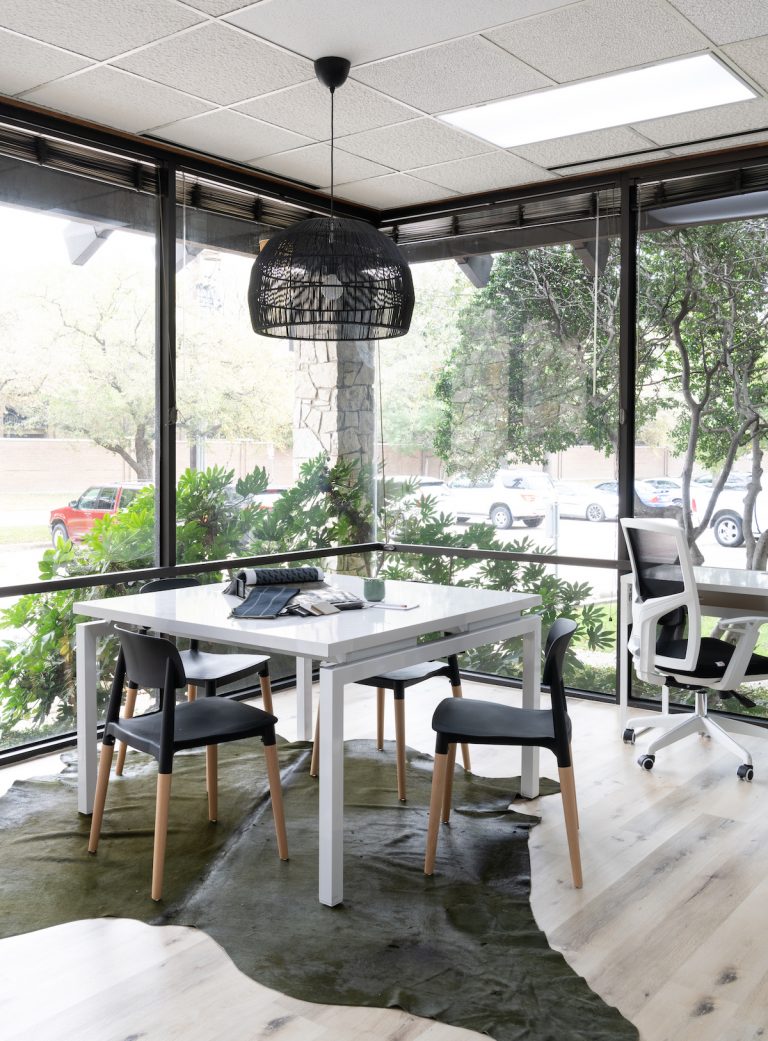 Turning around, you find the most comfy section in the place 😉 These height adjustable desks allow designers to sit, stand or even kneel! Arte Walls makes this incredible black and gold wallcovering that should probably be in every picture we take 😉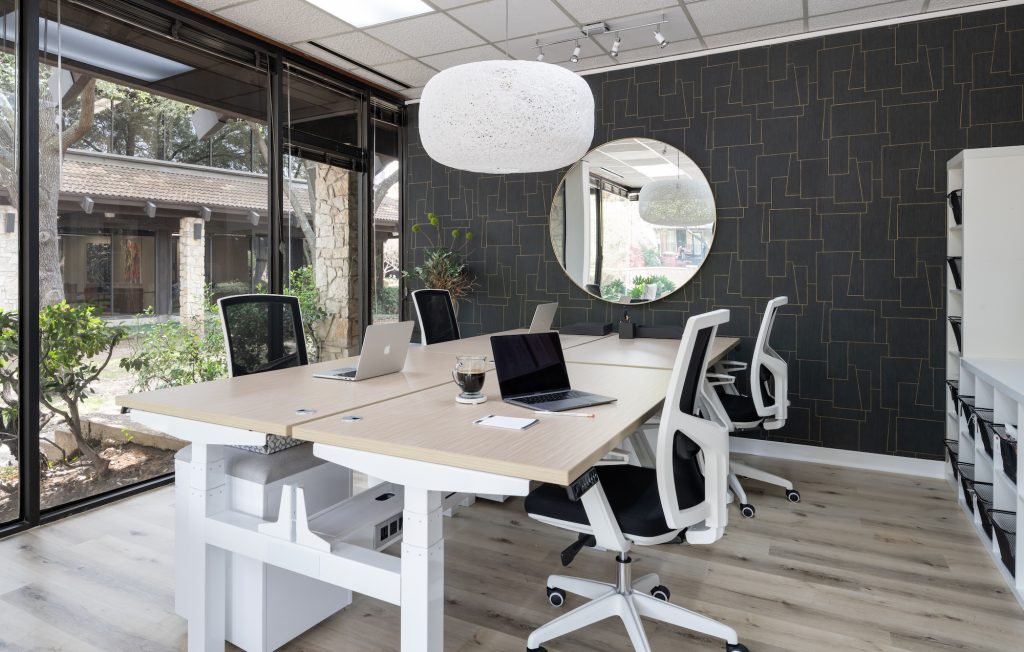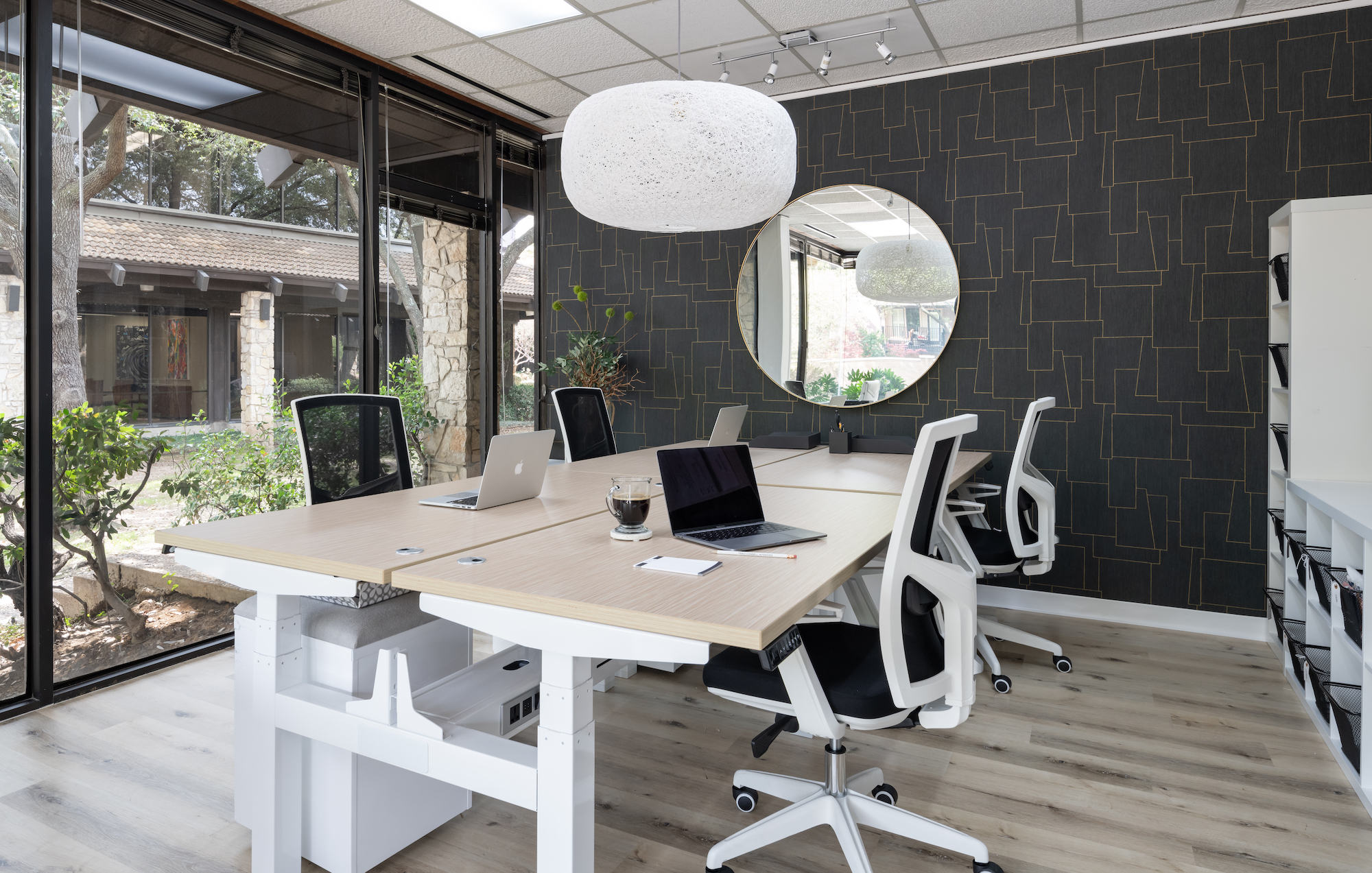 Moving into the Resource Room
Many many hours have been spent pouring over fabrics, finishes and designs in this room! This is where we house all of our products and catalogues for furniture and finishes. We chose marker board table tops in this room as well so we can easily label, create and design at the drop of a hat. The focal artwork supplied by Harold Fine Art is a great example of a piece that can be commissioned for any project. ET2 makes this incredible black dome pendant that sits happily above all our designs.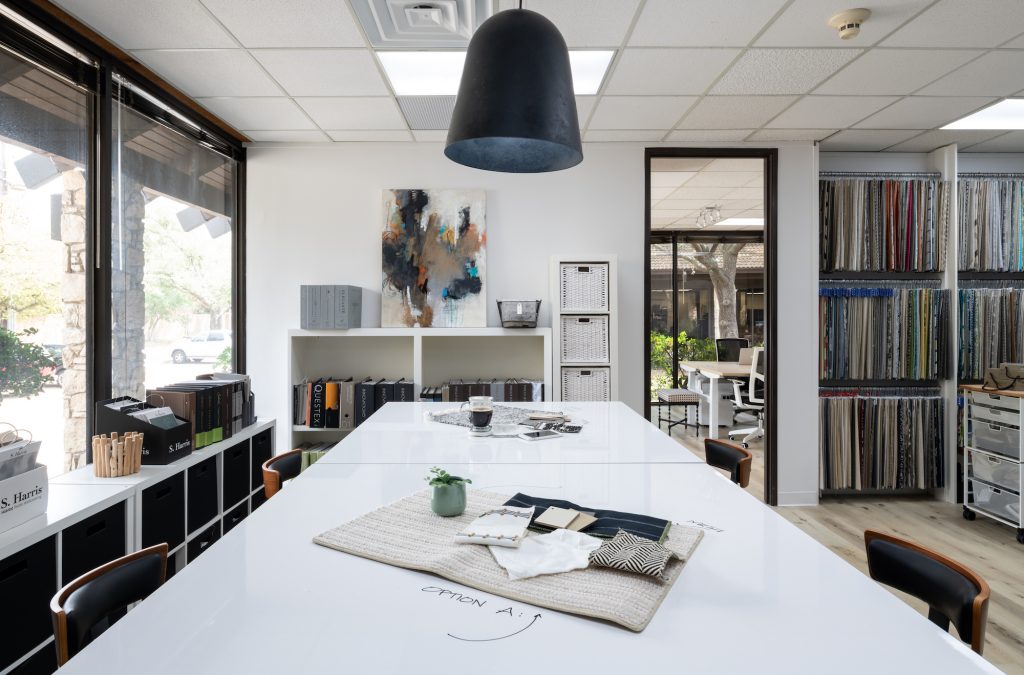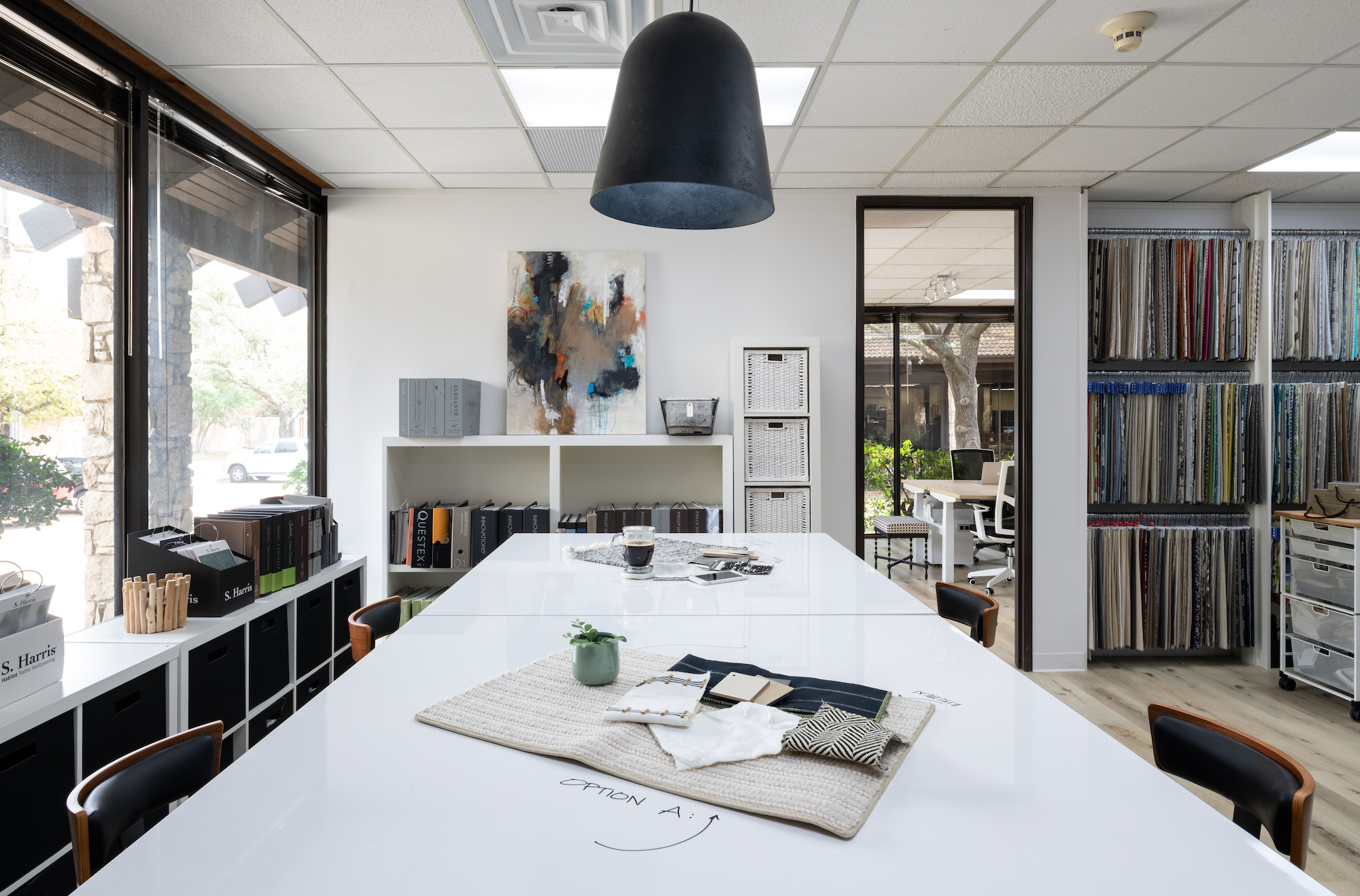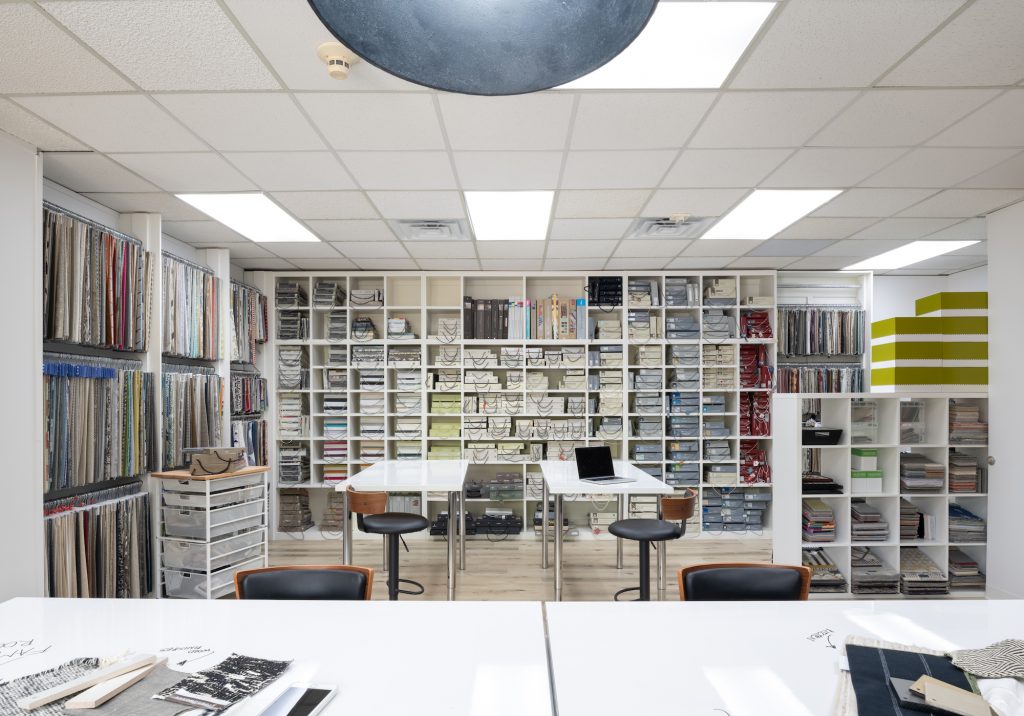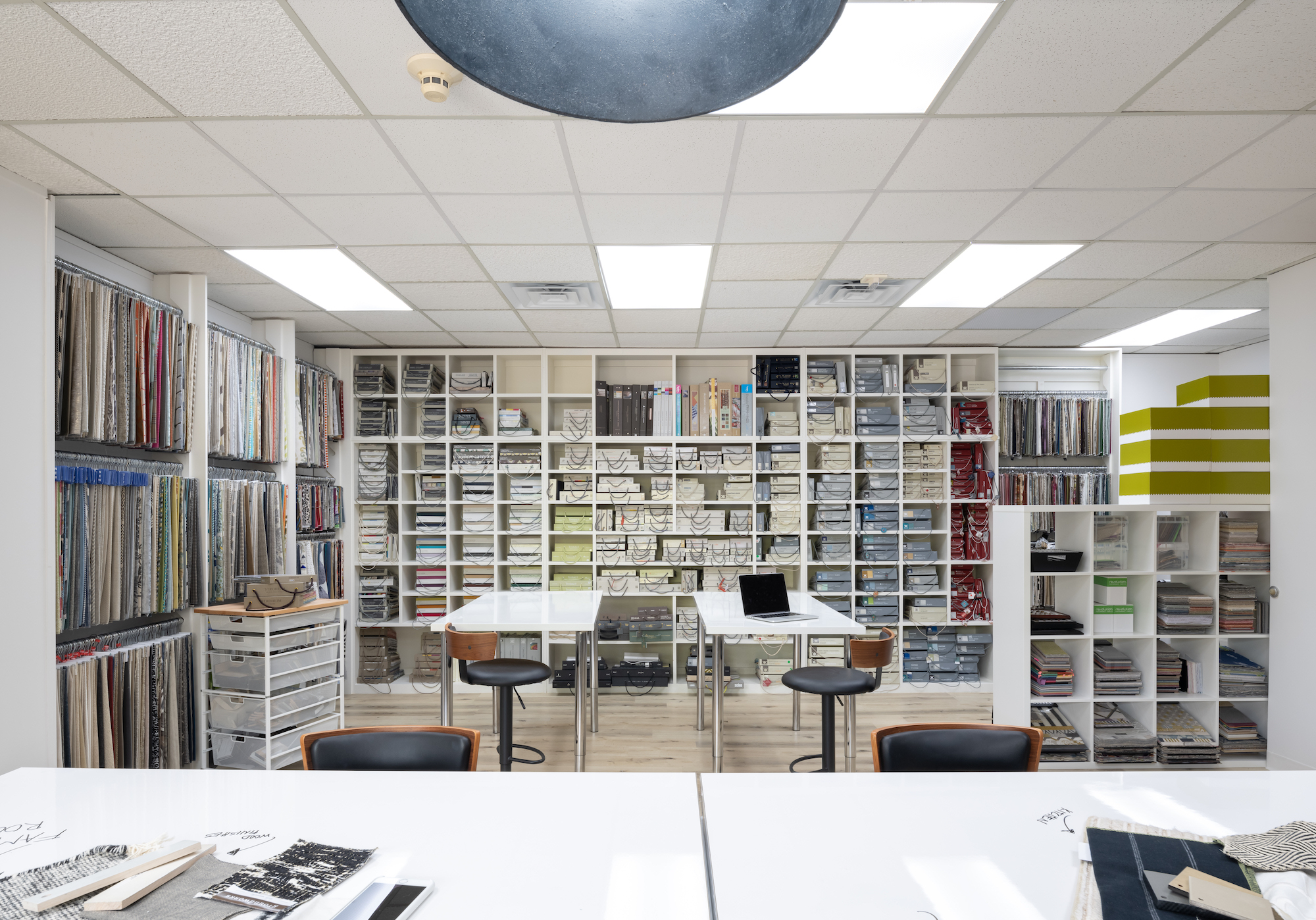 Traci's Office
Hello pretty little space!! This is my office and while I may not actually get to use it often, it sure does make my heart happy 😉 York wall coverings hit the ball out of the park on this pale pink palm pattern and I love it so so much. The Bust from Blue Ocean Traders is really my heart and soul. I love pieces like this. The art from Blayne Art gives the best color pops and Shane from the Botanical Mix brought the room to life with this modern faux floral. Color Unlimited Painting took this Scout Console and completely refinished it in a blush and gold lacquer! WOW.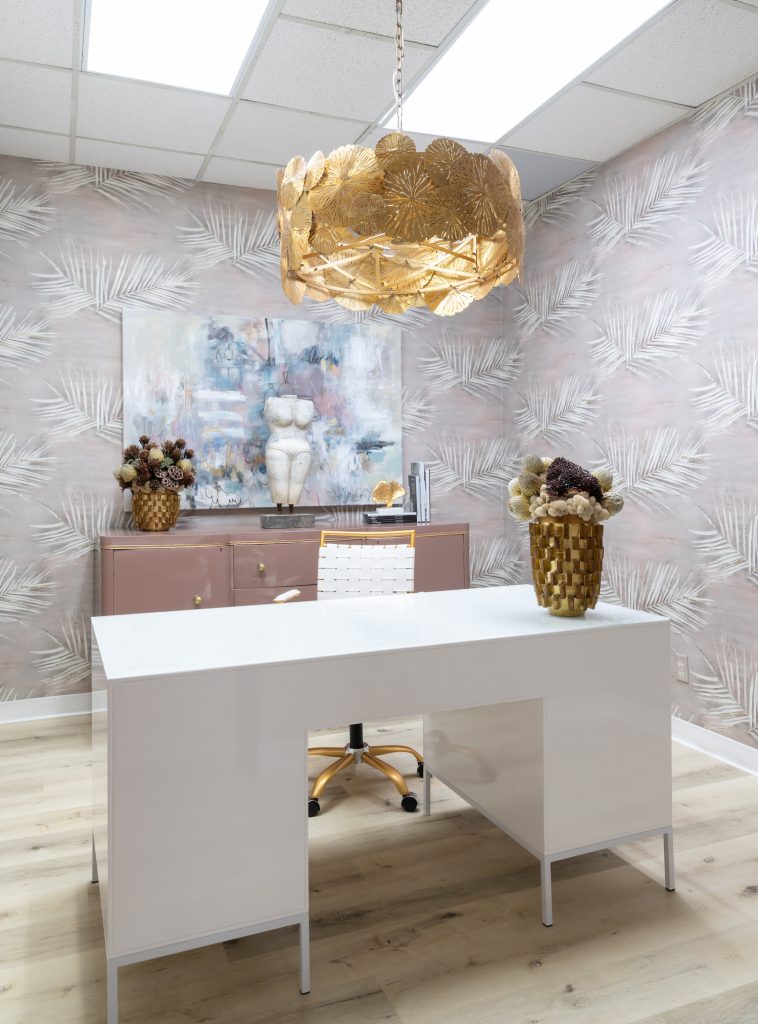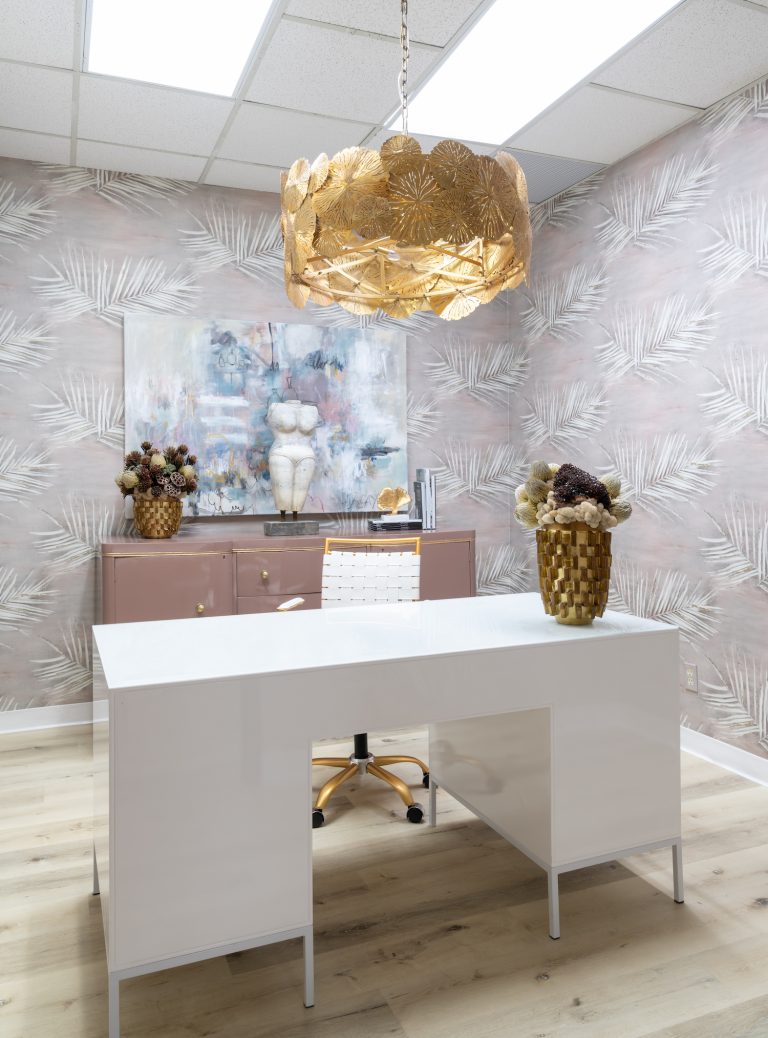 Moving on to the front of the suite – The Reception Area
From day one, we wanted this space to be different, unexpected and a WOW factor. JF Fabrics started it off with this incredible wall covering, followed by this Benson Cobb Studios art piece. RJones streamlined sofa is the perfect modern piece for our taste and we paired it with these Classic Home black leather chairs for a nice contrast. A Noir Furniture black table sits below this Arteriors Pendant and on top of a beautiful Truett Fine Carpets chemical died rug! Gut Gallery provided all these collections of modern art and we die when we see all these beautiful color ways brought together. Thank you to Shane from the Botanical Mix again for making our dreams come true with these faux florals!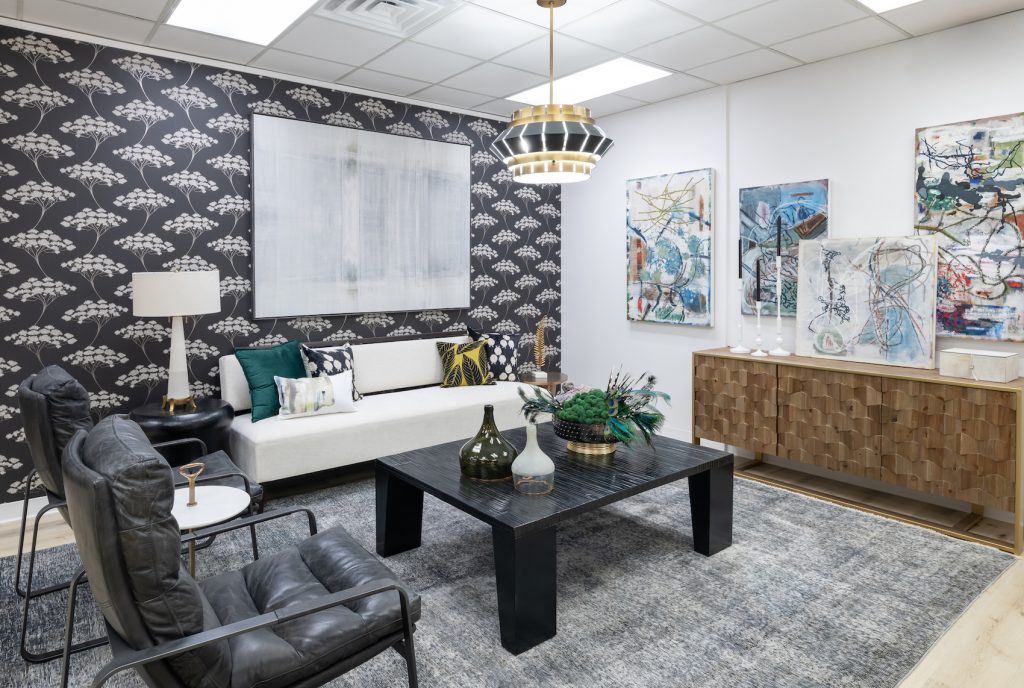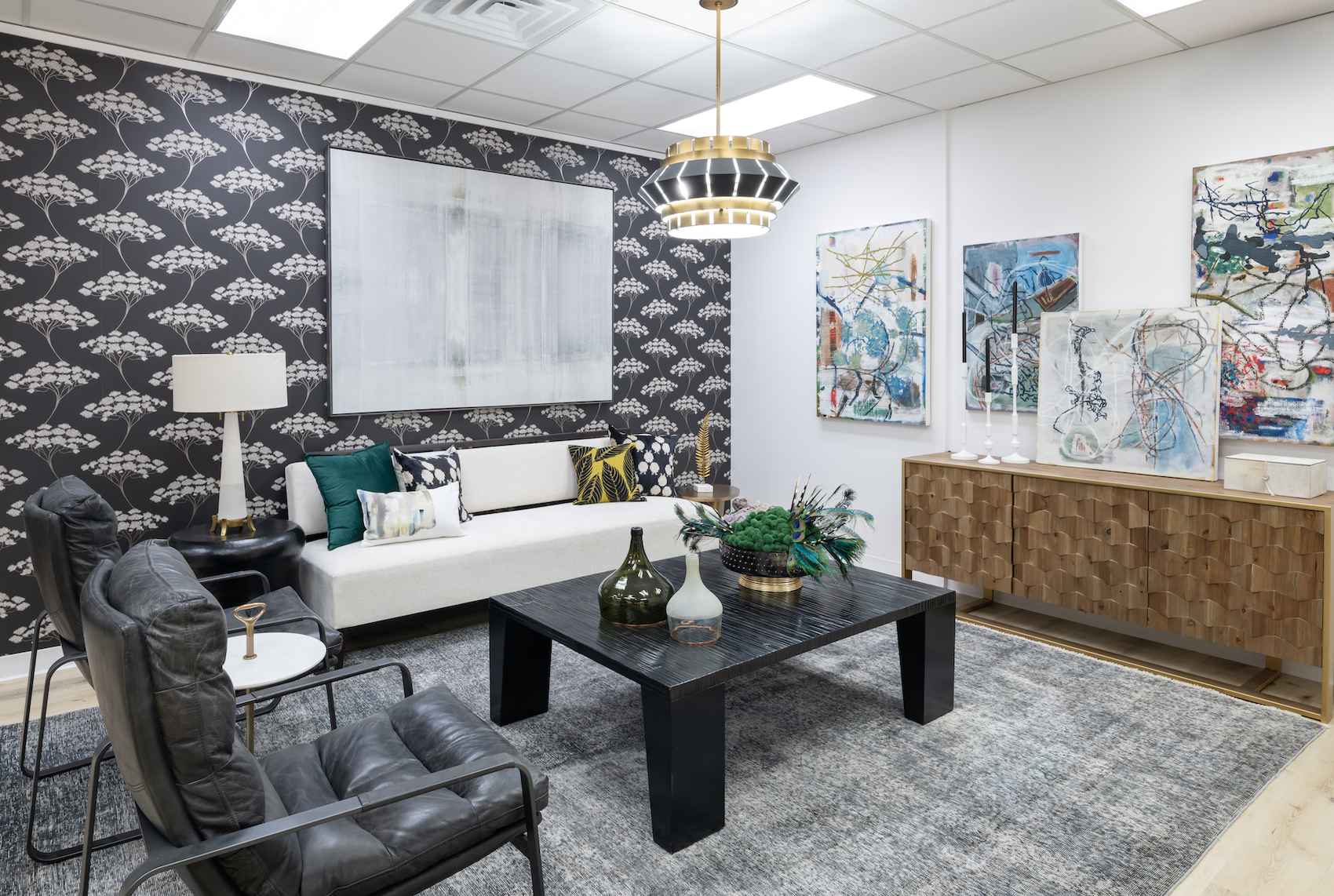 Our wood focal wall became the most fun way to showcase our best achievements! Along with these Arteriors Lamps and side tables that give a sweet little reading corner 😉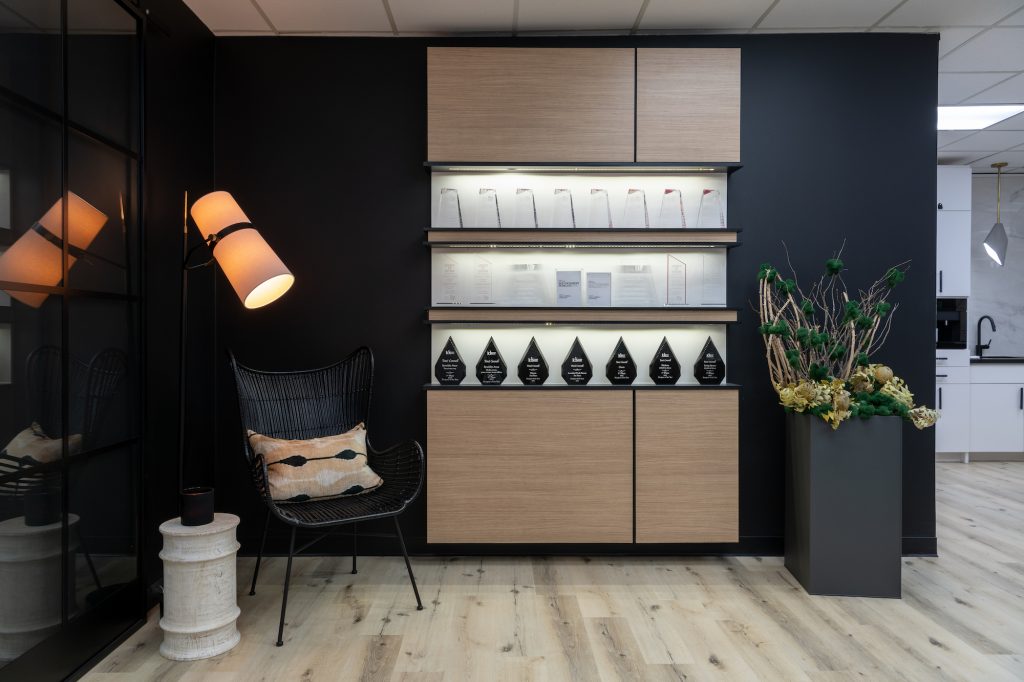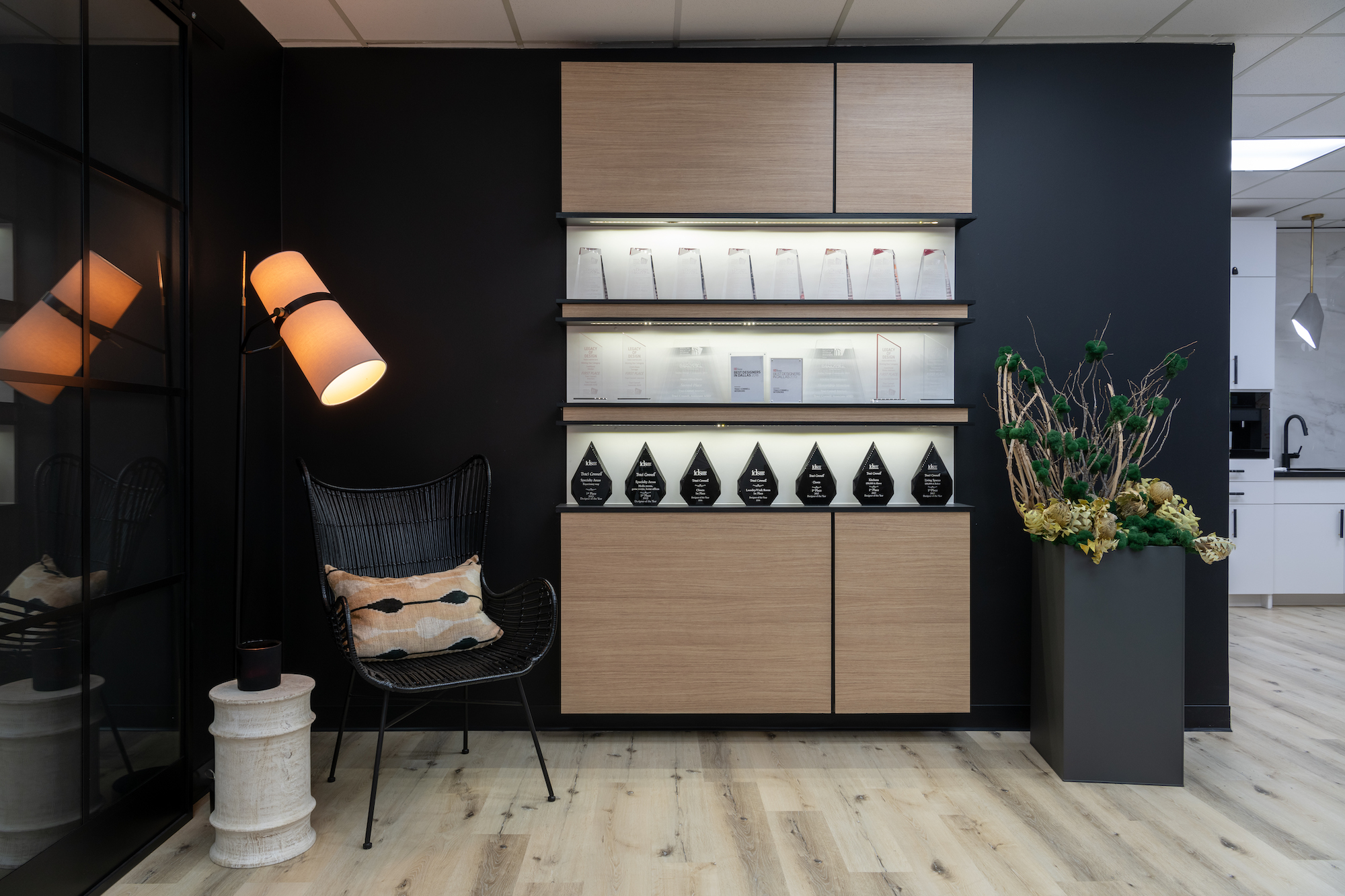 The Bar — I mean Kitchen 😉
Entertainment at its max!! With a custom Miele coffee system in arms reach, this space is definitely the most sought after in the office. Allied Stone installed and supplied the product for the full Quartz wall marble, and Black quartz countertops. Arteriors makes these cute pendants all around and Beth Gandy Art commissioned this amazing art piece. The Botanical Mix did it again with his creativity. Check out his full log wall!!!

Ferguson's provided all our plumbing and sinks for the space!

This is the view you get as you walk in our front door 😉 WE smile each time!! Lights Fantastic supplied these adorable black ball pendants as well.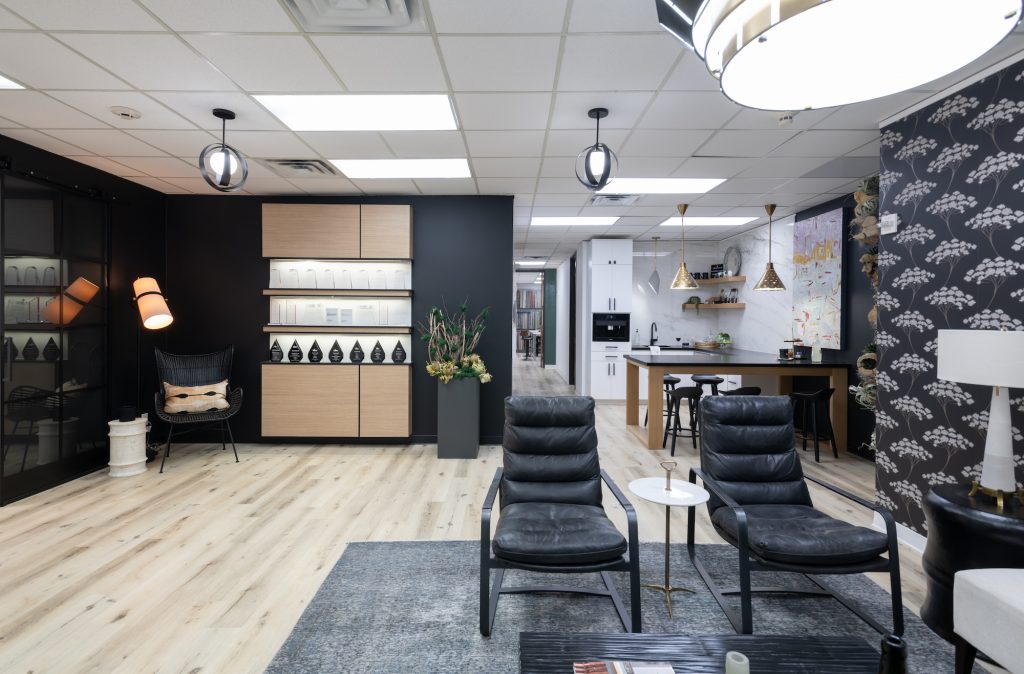 Color Unlimited brought our lacquered dreams to life by lacquering a FULL wall in emerald green. HELLO Beautiful!!!

Who says barn doors have to be farmhouse… NOPE. The Glass Barn Door created and built this beauty for us from black metal and glass. We love this look as you enter our conference room!!

Now all that is left is to PARTY! We can't wait to host more and more of you as we build our brand, team and company. A HUGE thanks to all our vendors who have helped us bring this office to light!!
Vendors: (links coming soon)
Phillip Jeffries
Beth Gandy Art
Arteriors
KB Studios
Allied Stone
Scout Design Studio
West Elm
Botanical Mix
Truett Fine Carpets
Natural Selections
Top Knobs
Article
Arte Walls
Gut Gallery
ET2
Blayne Art
Color Unlimited
York
Mod Shop
Blue Ocean Traders
RJones
JF Fabrics
Classic Home
Noir Furniture
Benson Cobb
Miele
Lights Fantastic
The Glass Barn Door
Fergusons