Happy Monday!
We are quickly approaching the Christmas holiday NEXT week! Before we rush into it, we thought it would be nice to take a seat….and sip on a delicious Holiday Drink!
Read on for a few of our favorite drinks, with recipes,
that you can make for yourself and friends!
Mulled Cranberry Cocktail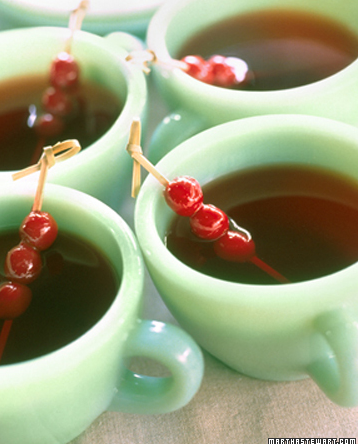 Ingredients
1 quart cranberry juice
1 cinnamon stick
2 whole cloves
1/2 cup cranberries
1/2 cup sugar
1/4 teaspoon ground cinnamon
Directions
In a medium saucepan, combine the juice, cinnamon stick, and cloves and bring to a boil. Reduce the heat and simmer.

Meanwhile, in a small saucepan, combine the cranberries, sugar, ground cinnamon, and 2 tablespoons of water and heat over medium-low heat, gently stirring, until the cranberries pop and are well coated with the sugar mixture.

When cool enough to handle, thread 3 to 4 berries each on 4 decorative toothpicks or skewers. Pour the mulled cranberry juice among 4 mugs and garnish with the cranberry swizzle


Peppermint Hot Chocolate

Ingredients
1/3 cup unsweetened cocoa powder
1 quart milk
1/2 cup semisweet chocolate chips (3 ounces)
7 peppermint sticks; 3 crushed (1/4 cup), 4 left whole
pinch of salt
Directions
Place cocoa in a medium saucepan. Gradually whisk in milk until cocoa has dissolved. Add chocolate chips and crushed peppermint; simmer over medium heat, stirring occasionally, until chocolate and peppermint have melted, 8 to 10 minutes.

Bring to a boil and immediately remove from heat. Add salt. Ladle into mugs; serve each with a peppermint stick.

Gingerbread Apple Cocktail

Ingredients:

2 oz. Domaine de Canton

1 oz. vanilla vodka

2.5 oz. apple cider

A few drops of lemon juice

Orange zest

Agave syrup

Directions:Line a chilled martini glass lightly with agave syrup on a dish followed by spiced graham cracker crumbs. Place all ingredients except for orange zest in a shaker and shake vigorously. Strain into glass. Freshly grate orange zest on drink and serve immediately.

Junior Mint Hot Chocolate

Ingredients:

2 Cups milk

2 Cups Dark Chocolate Almond Milk

1/2 Cup finely grated chocolate

1/2 cup Jr Mints

1 Cup heavy cream

2 T Granulated Sugar

Directions

1. Pour milk and chocolate almond milk into a 3 quart saucepan over medium heat. Add grated chocolate, stirring to combine. Add Jr. Mints stirring until melted. Reduce heat to a simmer.

2. Pour cream and sugar into a large mixing bowl. Whisk until stiff peaks form

3. Ladle hot chocolate into cups and top with homemade whipped cream and sprinkle with additional grated chocolate.

Favorite Eggnog

Ingredients

12 eggs, separated
1 1/2 cups superfine sugar
1 quart whole milk
1 1/2 quarts heavy cream
3 cups bourbon
1/2 cup dark rum
2 cups cognac
Freshly grated nutmeg

Directions

In a very large bowl, beat egg yolks until thick and pale yellow. Gradually add sugar to yolks. With a wire whisk, beat in milk and 1 quart cream. Add bourbon, rum, and cognac, stirring constantly.
Just before serving, beat egg whites until stiff. Fold into mixture. Whip remaining 1/2 quart heavy cream until stiff, and fold in. Sprinkle with nutmeg

Enjoy!