You guys hear all about our Ease of Glamour approach to design many times throughout the week, but we wanted to break down a project piece by piece and actually SHOW you what that looks like. Our innovative approach to creating durable, luxury designs has become one of the most important characteristics of design to our clients! Check out a completed kitchen breakfast nook area of ours that shows luxurious design that is durable!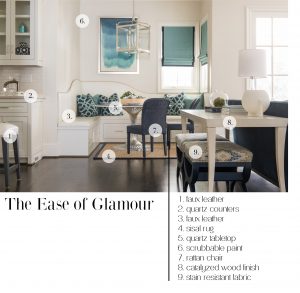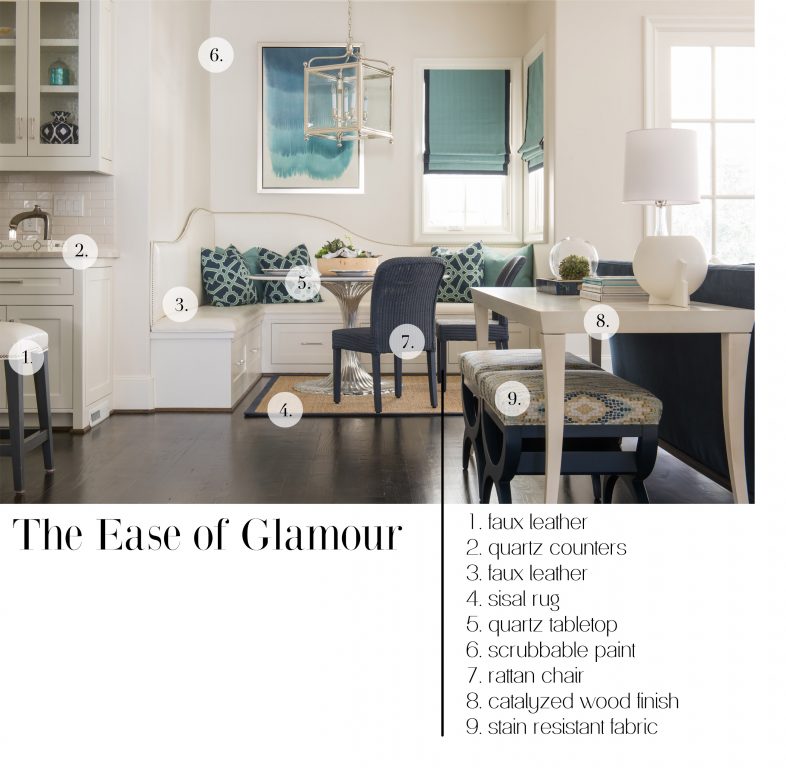 Ease of Glamour
As I always say – What good is a luxurious home if you can't actually live in it?That philosophy drives me to provide high-end interior design that really lasts for every one of our clients. This definition drives our specialty in sourcing materials and furnishings that stand up to everyday life, givine my clients a 'bulletproof' home for kids, pets, entertaining and more.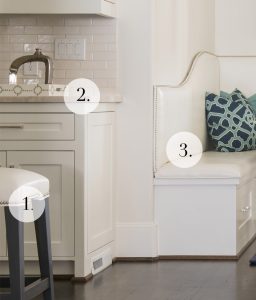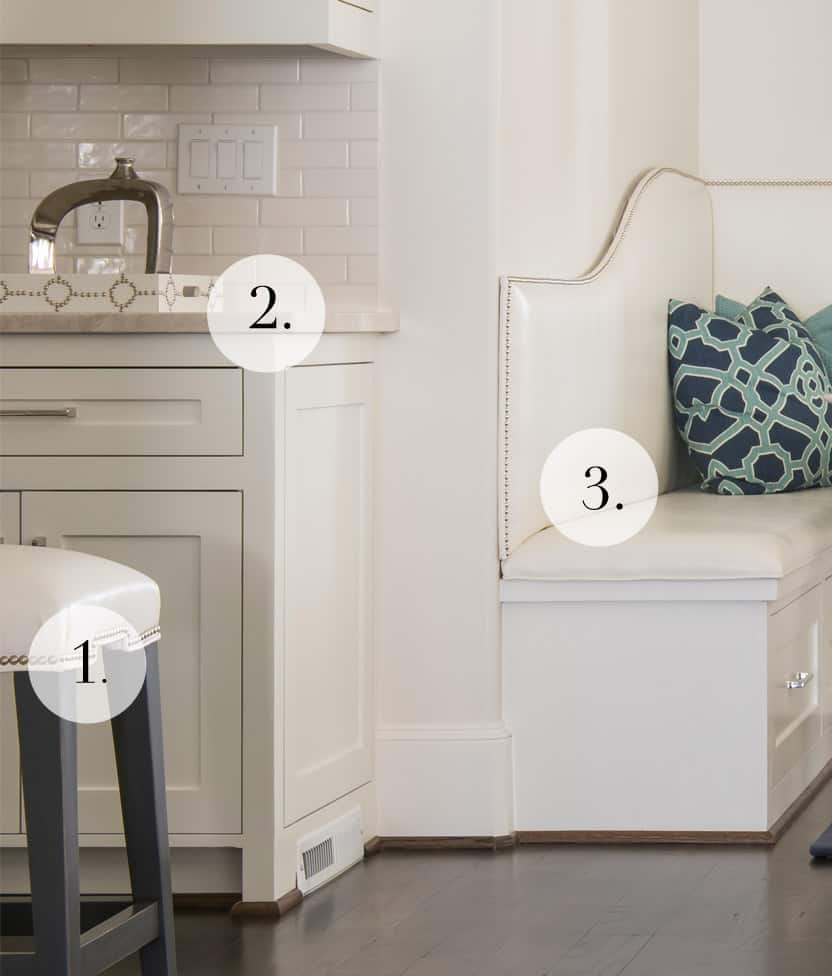 #1 and #3 – Faux leathers are some of our favorites to use in every location we can! The faux leather makes it easy to wipe off those spills, it doesn't scratch or indent and is always looking fresh and usable. Even when it's white!
#2 – Quartz countertops we use like they are going out of style (which they never will). This man made product is indestructible, non porous and can be made to look like marble or a completely solid color!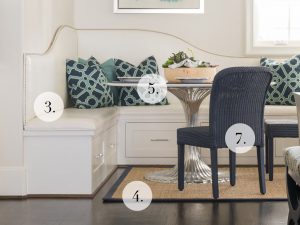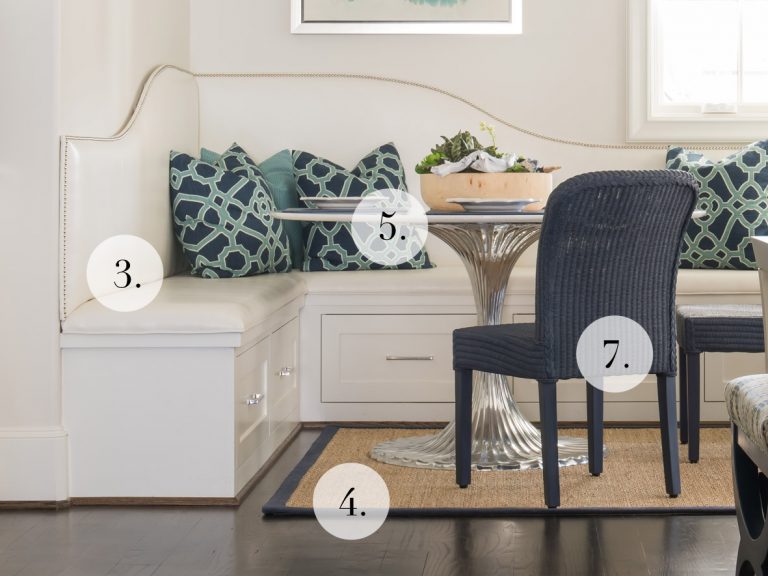 #4 – Sisal rugs are woven from natural plant fibers. Like a jute, coir, or hemp rug, it has properties of durability and resilience that many artificial materials can't provide.
#5 – Here's another use of quartz in a tabletop form. Perfect for spaghetti night!
#7 – Rattan features a solid core and is available in an array of natural colors. Its synthetic material makes it withstand stains, sunlight fading and wear & tear!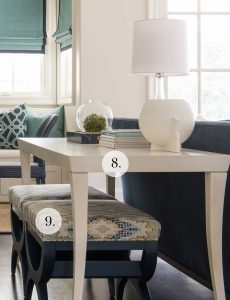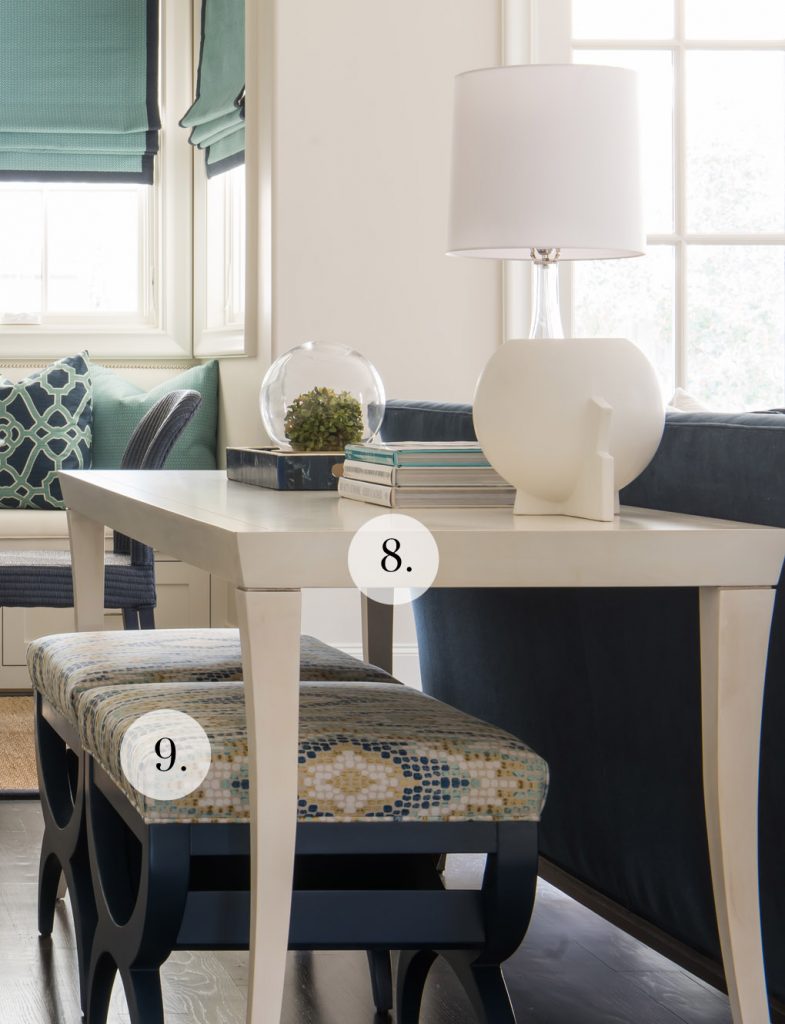 #8 – A catalyzed finish on this wood console table allows for drinks to be set upon it and no wet ring will be left behind. It is scratch-resistant and wipeable in the rare case your toddler takes a crayon after it!
#9 – Stain resistant fabric is a MUST at TCI. From Crypton, to Perennials, to Sunbrella, we utilize each manufacturer to the max to coat each and every surface in a material that can take sippy cup spills, wine spills and pet stains!
It is this emphasis on creating a symbiotic relationship between luxury and livability that has become my trademark. Our work is characterized by our motto: "Ease of Glamour".  When we create your space, we make sure you have not only the most beautiful, but the most durable upholstery, countertops, floors and more.